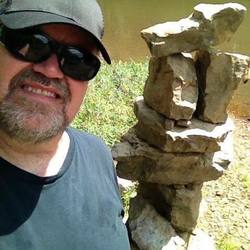 Allen Welty-Green

Atlanta, Georgia
ADD ADHD Coach, Relationship Coach, Life Coach
I work with individuals and couples who are coping with various challenges around ADHD, aging, anxiety, stress, creative blocks, parenting, relationships, sexuality, & toxic masculinity.
About Me
We all have questions …
Let me help you find the answers.
Who am I?
I am Allen Welty-Green. I'm a husband, father, musician, artist, writer, and most recently, a social worker-in-training (currently working on an MSW degree). I have lived many years and have experienced a lot. I have learned and grown, and now I'm putting my experience and insight to work as a Life Coach. My desire is to help others find answers to the questions that challenge them and prevent them from reaching their fullest potential.
What is a life coach?
This can perhaps be best answered by first stating what a Life Coach is not – a life coach is not a therapist. While people may go to a coach for the same reasons they might go to a therapist, it must be recognized that a therapist is trained to help get to the underlying psychological issues that a client might be dealing with, while a coach is mainly focused on helping a client deal with a specific situation.
So, what makes someone a life coach? There is no easy answer, because truthfully, anyone can hang out a virtual shingle and call themselves a coach. There is no established certification process, nor is there any required licensing. Life coaches can come from a range of backgrounds, from clergy to sales. Some offer one-on-one sessions while others are more like motivational speakers. My own approach is more like a tour-guide who helps you navigate the complexities of your own personal journey. I work with individuals, couples, and family groups to help sort out and manage a range of issues that can be impacting their lives at any given time.
Some of the issues I work with are:
ADHD
Aging
Anxiety and Stress
Clarifying of Life Goals
Creative Blocks
Parenting
Reinvention
Relationships and Sexuality
Toxic Masculinity and Gender Dynamics
Reviews
5 reviews (1 verified) (5.0)
I spoke to Allen concerning help for my young adult son with ADD. He listened to my concerns, explained how a coach may be able to assist but also suggested other options. I do feel that Allen has the experience and empathy to make a difference if my son chooses to accept the help.

Susan
When faced with a difficult personal choice, or life conundrum, I need only ask myself "What would Allen say?" The answers which arise within me are invariably kind, sane, and workable. His counsel isn't always easy to hear, and the work involved might take some sweat and diligence on my part. But one of his core virtues is his honesty, and if we are honest with ourselves, we know that complex situations are rarely resolved by quick, lazy fixes. Allen's honesty is matched by his highly developed sense of empathy, deep humanism, and kind-spirited sense of humor."

Curtis M., Nashville, TN
Five years ago, I was going through some personal dilemmas after a long, unhappy marriage. Allen helped me through the turbulent months ahead with expert advice and the emotional support that I desperately needed at the time. He is a trustworthy soul who I have never known to get angry or flustered. He is as cool and calm-headed as one could ever want in any circumstance, and confronts problems carefully and systematically with the utmost empathy and wisdom.

Stan T., Atlanta, GA
Allen has a depth of knowledge and experience that is truly helpful. He is easy to talk to and I recommend him as a life coach.

Christine G., Duluth, GA
Allen's approach to problem solving is both organic and non-judgmental. He really listens well and asks the right questions which allows you to come to the conclusions that work best for you on your own. His style of guidance works well for figuring out things as career change questions, creativity issues, relationships, and other life issues. I would highly recommend him.

Diana O., Atlanta, GA