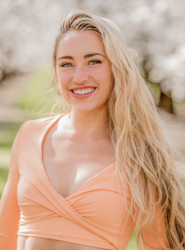 Allison McKay

San Francisco, California
Life Coach, Relationship Coach, Entrepreneurship Coach
Scientist, Engineer
✨I help ambitious women gain clarity, find purpose, and cultivate a thriving mindset so that they can slay their lives with confidence & direction.
Details

San Francisco, California 94123
303-328-5340
Send Message
Visit Website
Hourly Rate: $120 to $200 US Dollars
Gender: Female
About Me
Together we will build your most deliberate life. I'm your life & mindset coach, specializing in thought & emotional management. I'll help you discover your limiting mindset, reframe, rebuild, and then optimize. I'll provide tools for managing stress & anxiety, positive habit formation, thought management, and communication so that you can live your most beautiful life. Let's do this!
Connect with me to set up a free discovery call. I can't wait to be a part of your journey.
p.s. I cannot accept insurance
Reviews
8 reviews (5.0)
Allison has been the most amazing life coach. She helped me find my way again throughout trials of covid. I don't know what I would have done without her. She is a wealth of knowledge for all things personal development, mindset, habits, wellness, relationships... there's not much she can't help with. I have referred her to a few other people and they have since become loyal clients of hers too. We all benefit from Allison's knowledge and her passion for helping others. She has so much to teach. If you have the opportunity to learn from her, take it!

Ahmed Abdala
Allison is a treat. She has helped me a lot in my relationship with my wife. We had poor communication and mistrust. She has a great way of handling couples. She likes to work with each individual alone. And to be honest I was skeptical in the beggining but then I was like wow this makes so much sense. And we have improved a lot after only one month working with her. Thank you Coach Allison. Definitely reccomend Allison for anyone who needs to optimize their life or enhance their relationship.

Gurimo G
Allison is THE BEST!! I wasnt even sure that I needed a life coach before we met, I just knew I wanted to focus on improving my workout routine, personal relationships, and overall well-being and WOW Allison was able to help with all that! She was so easy to work with and get to know (I felt like we were friends right away) and shes been so encouraging and just the support I needed.

Ali M
Allison's technique for life coaching has helped me beyond words. She knows exactly what she is doing, and creates the perfect environment for me to invite change into my life. If you want someone friendly, professional, and someone to energize you, hire Allison.

Katie L
If you want an attentive, focused, effective coach - Allison is your gal. She's got what it takes to help drive positive change. I came to her for relationship coaching. She not only helped me and my husband rebuild to be stronger than ever, but she's also helped me to learn about myself and my purpose. So glad I found her!

Melissa R
Allison has been wonderful to work with as she is incredibly intuitive. She used this innate ability to figure out exactly what it was I needed/could benefit from based on what I was going through at the moment. She is patient and understanding and really, really cares about her work, which came across as her really caring about me. She has brought so much joy and positivity back into my life and given me so many useful tools to improve my wellbeing.

Audrey T
Allison has been a very positive professional and punctual life coach. I enjoy and benefit from what she has to say and offer. She's helped me to uncover some things about myself, so basically she is helping me get to know me. I highly recommend Allison if you are truly wanting to make some changes in your life. She is a pleasure to talk to. Debbie

Debbie C
Allison is fantastic! Has a very calming voice and listens! She always gives great advice after listening. She has a great personality and has helped me tremendously! Call her...it will help!

David O