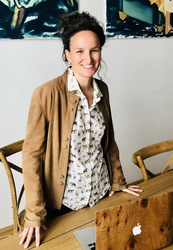 Amaia Sotes Linares-Rivas

Vienna, Vienna
Leadership Coach, Executive Coach, Business Coach
Certified Professional Co-active Coach, Professional Certified Coach
Are you a HighAchiever asking yourself: is this all there is to life? You feel stressed, empty, missing smth. I'll help you reconnect to your authentic self, leading&transforming your world InsideOut!
About Me
I support the transformation of leaders and high achievers who are currently feeling that there is something missing – you are not fully there: not realizing your potential, lacking motivation, fulfilment, joy, vision, creativity…you name it. While being run by stress, disappointment, apathy, playing it small, far away from being your best. I help you to reconnect to yourself (what lies deep inside & truly matters to you), in a self-discovery journey that leaves you emboldened and empowered to fully embrace your leadership that will inspire. We work on your awareness and courage, but also on your resilience to make sure you do cross to the other side. The result? Your impact becomes so much bigger, and you inspire others to join your vision. My clients describe the journey as non-return: "there was a pre-coaching-me and there is a post-coaching-me. I'd never want to go back! It is life changing!"
I use a blended-learning approach combining:
• 12 personal coaching sessions;
• 2 pre&post coaching self-assessment questionnaires to identify key areas to work on+results;
• 1 360 assessment on your impact on others;
• 12 follow-up reading material with latest research, habit-building, points of action
• 1 main coaching project incl. action plan
• Constant support throughout
Ive worked internationally for over 15 years in Europe, Middle East, Latin America & Central Asia in the private sector (Deloitte, Mondi) and international organisations (United Nations, OSCE, EC). I co-founded and now lead the IOA Ltd, delivering experiential & coaching-based leadership programmes. Past and current clients include SaveTheChildren, ERSTE, OSCE, IOM, KWS, FRA.
I'm Certified Professional Co-Active Coach, have an MBA in Leadership Skills and MES Master on European Studies and BA in violin. I've lived & worked in Spain, UK, Belgium, Austria. I work in English, Spanish, German, French, Italian and Basque. My latest adventure? To travel the whole American continent: Patagonia-Alaska!
Reviews
6 reviews (1 verified) (5.0)
Very intelligent woman! And very nice. Really tries to help you understand the world of leadership better.

Diëva Groenberg
I will be eternally grateful for Amaia for taking me on as a Coachee as part of the Noomii Coaching Circle. She is a wonderful coach passionate, inspiring, creative, cheerful and intuitive. She has the right blend of academic and professional coaching skills which challenge you and make you become more self-aware, resilient, courageous and a better person and a leader. Her coaching methodology of structured sessions with clear deliverables after every session make you work harder and develop new habits that can sustain you in the future. Every session is also followed with reading material, audio and video links which help you experience and learn the concepts discussed at a more creative and a deeper level. After ten immersive and interactive sessions of values, beliefs, purpose, collaboration and all the other skills the journey was very meaningful and had a very positive impact. I started my coaching adventure with her in June and now 6 moths later I feel more confident about myself and my skills as a leader and as a Coach. This has translated into new clients and made me explore new ways of building my business. Hence it has worked brilliantly for me. May you continue to inspire and make a difference to other peoples lives. Thanks a million Amaia!

Ruth Singh
Amaia led a programme of leadership called InsightOut which I was so privileged to be a part of. There are so many aspects of both the course and Amaias mentoring that have both profound and material impacts in my life The course itself which Amaia co-created was designed to push us out of our comfort zones, understand our role as leaders and understand our own leadership style. Although a group course it had the space and positive pressure to also look very deeply at oneself. I learnt things I had forgotten about myself and although already in a leadership role, recognised that many of my core skills were actually already there if only I would acknowledge them. I also learnt to listen to others appreciation of me - something that I have avoided / ignored in the past. Amaia was also my mentor and in many ways has continued to be so. She is generous and challenging in equal measures. She genuinely lives the advice she provides, is bold and open as well as reflective. Through her actions as much as her words she has taught me to embrace both the positive and negative experiences of my life, explore and be curious about how that can shape my future. I will be forever grateful to Amaia for the gift of thoughtful and purposeful self-reflection; for the ease with which she has helped me to make big and small decisions whilst challenging preconceptions and the fear of the new. I hope that in some way, I will be able to help others as Amaia has me.

Rich Cobb
I have been really impressed by my coaching experience with Amaya. I have never had a coach before and was a bit sceptical, but Amaya has helped me so much in terms of being a better leader but also on a personal level which I will be forever grateful for. I can highly recommend her as Amaya is professional, highly skilled as a coach and incredibly sensitive, but at the same time also know when to push.

Tamara Lowe
My coaching experience with Amaia has been transformational (and this is not something I say lightly). I had never had any coaching before and I must say I was sceptical about the benefits. However, Amaias ability, personality and experience all combine to provide a fantastic environment for learning, whilst feeling safe. I can not speak more highly of Amaia and I would recommend anyone considering coaching to choose her, without hesitation.

Gwil Purchase
Amaia is a unique blend of fiery enthusiasm & academic rationality that pushes your buttons and resets your mind. The flagship product of her coaching is the unique and well-tested leadership strength assessment that guides you through a process of self-reflection and growth. Coupled with the InsideOut Adventures booklet of assignments, you walk step by step knowing what it feels like to grow and lead.

Lynn Chiu
The Smart Way To Find A Coach

1 Describe Your Goals

2 Get Matched

3 Free Consultations
Find My Ideal Coach Now