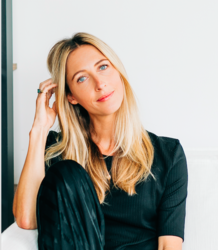 Amelia Kruse

New York, New York
Leadership Coach, Entrepreneurship Coach, Life Coach
I am a Leadership Coach working with creative professionals and entrepreneurs. I help my clients develop their emotional intelligence and authenticity to become leaders of their work + personal lives.
About Me
Amelia is a Leadership Coach transforming professionals and entrepreneurs into flourishing leaders in work and life. Amelia coaches her clients through challenges and transitions so they can develop their emotional intelligence and authentically grow their unique form of leadership.
Amelia focuses on developing self-awareness, empathy, emotional management, effective listening and communication skills, confidence and compassion in her clients in ways that can become a part of their habitual makeup. She helps her clients tap into their innate strengths and underlying values, passions and motivations to build authenticity in thought and action. She coaches clients to challenge long-standing assumptions, identify and eradicate blind spots, and illuminate fresh perspectives to find their path forward as a leader of themselves and others.
Amelia specializes in coaching individuals and teams in the creative industries and entrepreneurial space. Her clients have come from companies including Droga5, Google, Anomaly, The Participation Agency, Calvin Klein, Domino, Joan, Delivery Hero, Narcity Media, Matter Unlimited, Sotheby's, Wednesday Agency, Skillshare, Newmark Knight Frank, Saban Brands and Barings.
She has a holistic coaching style that focuses on the development of the whole person so her clients can flourish and best lead themselves and others in all facets of work and life. She is an intuitive and compassionate certified coach (ACC) with the International Coaching Federation (ICF) and a certified EQ assessor with Six Seconds (EQAC), The Emotional Intelligence Network. Amelia is based in New York and coaches clients globally.
Reviews
9 reviews (5.0)
"My coaching sessions with Amelia were truly transformative. Through our work together I was able to achieve my stated goals and gain additional insights that have already transformed my interactions with clients and colleagues. Together, we focused on my key leadership strengths and approaching every interaction through the lens of those traits. The process was illuminating and definitely set me up for next-level success. Amelia is an amazingly perceptive person with an old soul who I felt entirely comfortable delving into the deep with. She was the best part and I honestly am so grateful to have had her in my life!"

Ben, Senior Creative Producer, New York
"I got the pleasure to get to know Amelia's skillset over the course of 3 months, and within that short time frame my work outlook and output grew exponentially. Together we created goals both short and long-term, and through a variety of conversations and exercises we were able to create a path of success. I would not be the person I am today without her, I have already recommended her to friends."

Matthew, Senior Producer, New York
"Perhaps it's her calming demeanor, or her thoughtful leadership style that bring a unique balance of skill, efficiency, and empathy to Amelia's coaching program. Amelia's philosophy, coaching format, and experience combine for an exceptionally effective toolkit of growth and development. Amelia and I began working together at a time when I was questioning choices... concerned about the "right" priorities for my life, spiritual, personal and professional. In just a few sessions, Amelia and I uncovered a number of habits, thoughts, and feelings that (when fine-tuned) led to meaningful breakthroughs in my life: one being a job promotion, the other rediscovering my purpose."

Jennifer, Managing Director, New York
"Before working with Amelia I was struggling with focus, planning and mostly a big career and life transition. I am going from a big corporate career into motherhood and realizing that that life wasn't working so well for me anymore. My ego was hurt and I was unable to feel empowered and purposeful. In coaching with Amelia I was able to gain deep clarity, actionable habits and make new important realizations. I truly don't think I ever could have achieved this on my own. The insights, new skills, tools and regained confidence have left me feeling so much better and all the while have shifted my mindset to a new place of fulfillment. I see my future much brighter. I'm no longer stressed about where my life is headed and feel fully on target for success. I would highly recommend Amelia and her coaching for anyone experiencing a life or career transition. The effect of her coaching has dramatically improved my trajectory in a very positive way. I find her kind, intuitive coaching style was just the help I needed to move forward in my transition while feeling fully supported. The experience has been great and I wholeheartedly believe she can truly benefit anyone who engages her services."

Dorothy, Manager, Canada
"I sought Amelia's assistance with a few complex management issues that had me stumped. She quickly helped me to organize my thoughts, and encouraged me to think outside of the box that I was in. With her help, I found the best solution for each issue, invariably a solution that I had not previously considered. The bottom line is that Amelia improved my region's productivity and morale, and for that, I am grateful. I continue to work with her because her techniques work, because she always leads me to a successful solution. If you are struggling with a seemingly unsolvable issue, Amelia should be your coach. She will guide you to success, and save you both time and money in the process."

Jay, Director, New York
"I loved working with Amelia, her approach to coaching was exactly what I needed and I've had fantastic results. Amelia helped me find techniques that work for me and they have become default now. It really is a continual process, to keep growing, keep investing in myself. It has made me so positive and excited about future opportunities and understanding the importance of living to your optimal, self love and authenticity. I feel one of the best parts is seeing how much I've changed and grown through our sessions and that it has truly impacted my life for the better."

Amy, Designer, Australia
"Amelia really masters the most powerful and impacting skills of being a proficient coach: she listens with great care and compassion; she has an exceptional level of awareness and presence in the moment, and, last but not least, she brings to her client very powerful questions that awakens his perception of the things he's got to see and face."

Joel, Senior Executive, Brazil
"Amelia is an inspiring and engaging coach. She has a unique ability to put you at ease during a coaching session. Within minutes she will have you reflecting on what you're doing and gently assisting you to come up with solutions and actions plans is something that I value each time we speak."

Dave, Assistant Vice President, New York
"Amelia is a powerful listener and consistently interprets what my words mean with only my best interest in mind. She asks thoughtful and thorough questions with a very nurturing and calm demeanor allowing the conversation to easily flow. She makes everyone feel instantly comfortable and heard, which never goes unnoticed!"

Danielle, Project Manager, New York