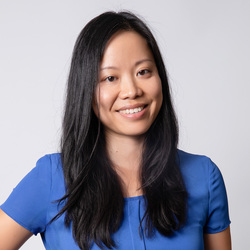 Ami Au-Yeung

Markham, Ontario
Leadership Coach, Career Coach, Executive Coach
M.HRM
I help professionals navigate their workplace landscapes and careers. Some of the things I help people with are navigating workplace politics, career change, and how to be more assertive.
About Me
As a workplace strategist, career coach, and past business professor, I help people navigate workplace politics, career change, and how to be more assertive.
We'll chat about any career challenges you're facing - whether it's about:
*Your feelings of panic and frustration dealing with workplace drama,
*Being afraid to speak-up at work and be more assertive, or
*Being scared to change careers and you don't know where to start
I'll help you look at your career from a new perspective by holding an objective space for you to creatively explore and experiment different possibilities. Together we'll develop a plan to help you move forward.
I have a Master's degree in HR Management, an executive certificate in conflict management, and a certificate in coaching. I've delivered more than ten organizational development programs at Ontario Power Generation. I taught at George Brown College using a customized curriculum as a member of the Toronto campus Business Faculty.
I have discovered that the best results are achieved through a process of self-discovery, goal-oriented thinking, and receptiveness to new ideas. I use a tailored approach built around your unique needs -- through which we identify your strengths, values, and personality DNA.
Fun facts about me:
*Popcorn is my favourite food
*Biking makes me feel free and connects me to nature
*My yoga cravings lead me to become a Certified Yoga Teacher
*I'm a world traveller: Hiked the Inca Trail to Machu Picchi (13,828 ft) twice, explored Peru, Japan, Ireland, and over 25 other countries
Let's simplify things and make your career flow. I'm here to help you navigate your career, manage workplace politics, get intentional about your next career change, and how to be more assertive.
Learn more about me and my work by searching for "Career Coaching by Ami" or connecting with me, "Ami Au-Yeung", on LinkedIn.
Reviews
To be quite honest, I think Ami has all of the qualities that make up an effective workplace strategist & career coach. I have had the opportunity to use her in the past and during our sessions, Ami has helped me to face uncomfortable truths about myself that I did not want to face. She helped me to realize that I needed to face these truths to move forward with my career. I am so grateful for her guidance and plan to consult her for my future career needs.

Anna M. Capacity Assessor