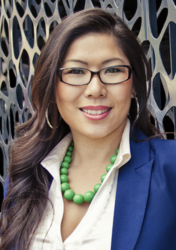 Amie Leadingham

Marina del Rey, California
Life Coach, Business Coach, Relationship Coach
Named one of LA's Best Dating Coaches by Dating Advice .Com, Master Certified Relationship Coach for Singles
I work with busy single professionals that want to stop the cycle of heartbreaking dating patterns and find lasting love by Conscious Dating.
About Me
Most of us settle because we fear that there is no one out there for us. But with this mindset, how does it help us achieve our ultimate goal…experiencing real LOVE?
We are the common denominator in all of our relationships. A negative outlook can make us stuck with no results. Our beliefs and attitude play a BIG role in how we show up in the world and how we connect with others.
Imagine walking in the room feeling so confident that everyone gravitated to your charm. Imagine feeling so secure about your choices that dating seemed easy and effortless. By owning your value, you ultimately find someone that makes you feel loved and cherished. How would that make you feel?
The path to love starts with uncovering our unhealthy dating beliefs, attitudes, and patterns. In order to fix a problem, we must first bring the issue to the forefront, and that's when positive change happens. Sometimes we see these negative habits in others, but we tend to have blind spots when it comes to seeing it in ourselves. Especially when we're emotionally charged, that's when we need the most support.
My goal is to support you on building your inner self-confidence and develop your Relationship Plan. Each week, we'll complete exercises that help you gain clarity of your ideal relationship and ideal partner. This Relationship Plan is so powerful because you become crystal clear of what you will be "okay" and "not okay" with during the dating process or even in a relationship. Moving forward, your needs will be met.
Of course, this keeps you from settling for less than you deserve. As a result, you'll stop wasting time on dead-end dates and relationships. Now you'll open your heart to choosing a quality partner that will ultimately lead to life long love.
I invite you to schedule a free consultation with me and let's talk about your personal situation. Feel free to visit me at amiethedatingcoach .com too and grab my free 5 Dating Traps eBook!
Reviews
8 reviews (5.0)
When I decided to jump back in the online dating pool, I was determined to not repeat the same mistakes. My challenge was to find clarity about my best self, make me the priority and crystalize who would best compliment my ideal life. Amie's laser focused approach is honest yet gentle as we discovered what's really going on and go deep into a vulnerable place resulting in tremendous growth and enlightenment. By working her proven process, I attracted a wonderful life partner and together, we're co-creating a new, more meaningful level of love like I've never known before! My happiness and gratitude overflows. Thank you Amie!

Teri Bond
"I challenge you to find a better life coach. I interviewed eight coaches and immediately knew to choose Amie. Her extensive knowledge, attention to detail, and ability to adapt to my personal needs and situation went above and beyond what I could have expected. Plan to be personally prepared to work hard, experience personal challenge in each session, and make changes. You will be expected to do this and more. Amie supports you consistently . I would not recommend having an arsenal of excuses....or an unwilling spirit to change. Amie expects results."

Kerri Hite
"Coaching with Amie helped me get clearly in touch with what I want in a relationship. She tuned into my top values,and gave me the tools and insight to bring them into my dating life. Now I'm more confident, relaxed, and at peace with the process. Thanks Amie!"

David S.
"Prior to meeting Amie I was in a relationship for 7 years. When it ended, I had no idea how to date or what was right for me. I felt like I was starting all over again but a little freaked out because I was now 30 years old. I thought I would be married by now and felt the clock ticking for sure. I started dating on my own and kept dating all the wrong guys because I felt like I had to settle. With a feeling of constant let downs, my friend referred me to Amie. I took a leap of faith and joined her program. It changed my life and my perspective to dating. Amie's approach is amazing, she was supportive but challenged me when I needed to hear it. I now feel so empowered and since working with her, I stopped wasting my time dating the wrong people. I'm happy to say I finally drew in the relationship I never knew existed. I have never been so happier in my life."

Andrea Cohen
"Amie is more than my dating coach, she is my life coach. She speaks very openly and honestly about all aspects of my life and constantly challenges me to grow as an individual. Her non-judgmental approach makes Amie easy to speak with and offers tools and support to resolve issues going on in my life. With Amie's support, I was able to discover my own worth by not selling myself short with the men I was dating. Within a month of working with Amie, I met the man of my dreams and now, two years later, he and I are awaiting the arrival of our twin daughters. Now, I reach out to Amie for ongoing advise about my career, family and relationship and truly don't know where I would be without her. One session with Amie and you will see for yourself just how incredible she is."

Nicole Gomez
"Having been married and starting over again, dating was incredibly daunting to say the least. Amie was the voice of not only encouragement but reason. Shying me away from my bad habits, helping me get into my feminine energy, reminding me to let them take charge and cheering me on. Her coaching has changed my life and I know I'm on the road to love! Can't recommend her enough."

Marsa Snow
" I really have all great things to say! You are very personable and approachable. You made me feel comfortable and able to open up right away. I was able to say things I might not otherwise have said in a public space. I do like the methodological approach you take. While we did spend some time on the past, you mostly emphasized the present, and what I could do to take steps to change my behavior. I tend to get caught on my "story"… and you helped me move on from that. I also really like how you asked me to break down my larger goals into manageable parts, and asked me to anticipate what things might be a barrier to my success. It made my actions steps reasonable and "doable". It made my goals realistic and attainable. Thank you for everything!"

Jennifer Monroe
"It was only with the intuitive, insightful coaching of Amie that I was finally able to see and overcome the habits that had previously kept me from attracting and keeping the right relationship. Her coaching works. I'm now engaged, it's proof the program works. Thank you Amie!"

Kate Cooke