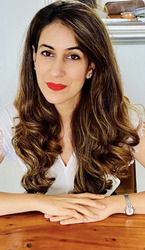 Amina Ajaz

Spokane, Washington
Life Coach, Career Coach, Relationship Coach
CTI Co-Active Coach, LLM (Masters in Law), BSc in Social Science
Let me be the one to show you that what your life is today does not hold a candle to what it can be. Let's transform you from living in reaction to being a deliberate creator of your life.
About Me
I am an experienced corporate lawyer as well as a coach, trained under the International Coaching Federation (ICF) accredited program.
My ideal client is anyone who wants to move forward whether it is someone who is at a crossroad in their life, someone feeling stress or overwhelmed with life and work or looking to regain joy and confidence in their career and personal relationships. I help my clients find a deep sense of clarity and confidence and discover a new excitement and love for life by turning their ideas into reality. We work together to do away with negative self talk. I support my clients through their journey to stop living in reaction to things happening to them and become deliberate creators of their lives.
My style of coaching is heavily influenced by neurobiology. Our wellness is often hijacked by a fight, flight or freeze response embedded in us from challenging life events in childhood or adolescence that that were not effectively processed and integrated. These stuck emotions constrain our capacity for joy and intimacy but also adversely impact our health and immune system. Through intuitive questions and powerful coaching techniques, I help you identify and integrate these stuck emotions removing these blockages. This process frees you from triggers that have been holding you back and enables you to live with vitality, self awareness and fulfillment.

My training as a lawyer and coach has taught me to approach my clients with dedication and focus. I bring my values of fierce courage, connection and trust to create a safe space for you to talk about your emotions and goals. Whether it is career, health or relationships, we will work together to discover and resolve the core cause of your discontent, and create a new narrative of empowerment. People over estimate what they can do in a month but they underestimate what they can do in a year. When you look back at your journey a year from now you will be full of gratitude that you started today
Reviews
12 reviews (5.0)
Within a short period of time Amina has helped me to clarify in my mind who I am and what is important to me. She has helped me to understand my emotions and given me techniques to reduce anxiety. My sessions with Amina have been extremely beneficial and I now feel calmer and in greater control of my own life- thank you Amina!

Anonymous
I found Amina to be very compassionate and empathetic. Within no time she could get me and help me with an issue I was facing. She brought to my attention my behavior which made me realize a way I could better my life. Thank you for being an amazing coach. Being a coach myself, I learnt a lot from her about being a better coach. Salute

Aditi Khatau
I had a session with Amina about a very particular challenge and she cut right to the heart of the matter and managed to make me see angles and perspectives that I had not thought of before. She is very objective, and deeply insightful and she successfully managed to get me out of my head and stop the overthinking, which is no small feat for a person like me.

Saima
Wow oh wow! What an incredible eye-opening and emotional first-time consultation. As a first-timer, I came into it with little preparation or expectations not having anything in mind to talk about. I came away with a load off my shoulders, letting out emotions I didn't realize needed releasing and an even more positive outlook. As a working mom and startup founder, I realized very quickly how important this is and will continue with a regular package with Amina. I look forward to this new experience and coaching opportunity. Thank you, Amina, for asking the right questions and listening.

Julie Nguyen
Amina Ajaz is very good at helping you feel your way through unresolved past traumas. I loved the exercise we did that got me into my body. She made me feel comfortable right away. It is so easy to open up and share very personal things with her. Something that really stood out to me was when she told me I use humor to mask my emotions, I never realized that about myself but found it very enlightening.

Tracy Diana
I had an extremely positive experience, doing my life coaching session with Amina. Amina has a way to make you comfortable and at peace with sharing your thoughts and goals with her. She has amazing strategies, and makes you feel at ease while speaking to her. She helped me connect deeply with my body, feel my inner voice, feelings and emotions, and to address them effectively. If anybody needs a life coach, I would highly and only recommend Amina after my own tried and tested experience, you will not be disappointed!

Anum
Amina has an innate ability to communicate effectively and productively. She has a deep understanding of how to handle complex situations. What I liked most about her style of coaching was the fact she had no personal agenda. I felt connected to her throughout the session and was highly impressed with her level of Emotional Intelligence. I would recommend Amina to anyone looking for someone who thinks outside the box.

Shadia
I find my sessions with Amina to be engaging, healing and motivating all at the same time. She is a very talented coach who listens to me well and intuitively knows the best direction to take for each session. I am surprised at how quickly she is able to identify barriers in my thinking, and apply expert techniques/tips to help me work through them. Post-sessions I experience an enduring shift in clarity and overall well-being with regard to the topics we have discussed be they personal or professional. I highly recommend Amina's life coaching practice.

Saira Chaudhry
Working with Amina was an amazing experience. I felt uplifted, clear and energised after my sessions with her. Amina helped me break down long term and short term goals, work out achievable time lines, and set my plans for business development and growth into motion. I found Amina to be very compassionate and warm, she's an excellent listener and kept me focused through the sessions.

Nazia Zainab Sheikh
When I had my first session with Amina, I didnt quite know what to expect. There had been a few big life changes that I was finding difficult to negotiate and this had left me feeling low and unsure of myself. Amina helped me address each point of concern or confusion step by step, systematically helping me see things with far more clarity; and I was blown away by how easily I was able to pin down solutions to a lot of the issues I had raised. She is empathetic, with a gentle and encouraging manner, and steers the conversation in a way that nudges you to deconstruct the issue and see it for what it is and not what you may have built it up to be in your mind. In my case, I came out feeling far better equipped to take on the challenges I wanted to address. I left the session feeling empowered and much more confident and I cannot recommend Amina highly enough.

Anisa Khan
Amina Ajaz, creates an atmosphere of extreme trust and confidentiality in her sessions. Our meetings are always a safe space, a haven, where I can bring my very raw, vulnerable self; I can pour out my heart without any trepidation during that time. She has the inherent ability to make one feel incredibly comfortable and unafraid to share in her presence. During our sessions Amina was able to dislodge and highlight emotions that I had hidden away. Those emotions needed to be unlocked for me to understand and connect. Amina has been invaluable in helping me embrace myself, warts and all, and is continuously nudging me to understand and practice self compassion. I feel extremely fortunate to have been coached by her, as she has helped me understand and deactivate my triggers that were proving to be immensely detrimental for my emotional landscape.

Sydra Junaid
I highly recommend Amina as a coach. In our work together, she's provided exceptional value in her ability to assess situations quickly and offer concrete tools, processes and plans of action to enable successful growth, change and resilience. Working with Amina was a life changing experience. She helped me to reach new heights. She has the ability to connect with her clients quickly and to begin work with them at whatever stage they're in at the time. She is trustworthy, always encouraging, and a patient and insightful guide through life experiences in pursuit of goals and dreams. She also offers good value and high integrity.

Mirna Ghannam