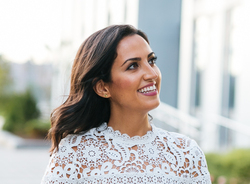 Amina AlTai New York, New York
Business Coach, Career Coach, Health and Fitness Coach
Certified Health Coach, Certified Personal Trainer, Certified Meditation Teacher
The career transition: They are about to switch careers but aren't sure exactly what they want to do. The solopreneur: They have a business but need help growing it The growing Entrepreneur:
About Me
Amina is a wellness expert, healthy business advisor, founder and CEO of Amina AlTai Advising LLC and former marketing & agency executive. She is the first social entrepreneur to successfully create a methodology that supports the health of a business and its people at the same time. After starting her career in marketing at the illustrious jewelry brand, Cartier, she went on to co-found a marketing agency specifically to support emerging and growth-stage brands. After 7+ years working on brands ranging from Samsung to Avene, MdSolarSciences and Supersmile as well as dozens more, she went on to lead marketing efforts for Spafinder Wellness—the largest media and marketing company in the wellness space. She later took a post at Bliss as head brand integration—overseeing the product, spa and E-commerce businesses continuing her track record of rapid growth and exponential success.
Eventually, grappling with a fast-paced career and two autoimmune diseases lead Amina to burnout. In hopes of healing her own life, she sought out training in nutrition, fitness and mindfulness through some of the greatest wellness teachers and schools of our time. Struggling to manage her own health and keep up with the demands on her growing career, it became clear that resources are slim and the two concepts are often mutually exclusive. Her goal became to teach others how to balance a thriving career, body and mind. Progressive companies such as Deloitte, Outdoor Voices, NYU and HUGE have partnered with Amina for training that breaks the mold and makes a difference. Meanwhile, millions of readers tune into her work via destinations like Thrive Global, MindbodyGreen, The Observer, Spafinder & Barry's Bootcamp, Yahoo Beauty, Bustle, Byrdie and more.
Reviews
Amina has 5 reviews.
"Working with Amina was greatly insightful. It helped me sort through a big decision I'd been working through for ages."

- -KC, NYC
"This session with Amina was incredible. It felt both grounding and inspirational. What a way to kick things off."

- Heather, NYC
"From the synchronistic way I found her, until our last meeting, Amina had been a source of joy, expertise, inspiration and motivation. She taught me way more than I signed up for. Her infectious happiness lightened the huge task of starting a business, yet she held me accountable for the goals we set, supporting me every step of the way. The they way she brings and transfers focused, positive energy to a meeting is nothing I'd ever experienced or imagined. Because of this it's essential for me to set the energy right before I work now, like getting wifi or a having ingredients to make products. I've learned so much from her deep well of knowledge and experience in wellness and business. Thank you, Amina!"

- -Angela H., NYC
"After my first session with Amina, I have clarity in my business intentions and an action plan to make it come to life. Amina's guidance and expertise are immeasurable, she's caring, warm and thorough. I look forward to next steps on our program, and feel fortunate to having Amina as my guiding light in this journey."-

- Paola, NYC
"My experience with Amina was eye opening and heart opening! I left with so much insight and tools that I will carry with me as I grow my business."

- Hannah, NYC