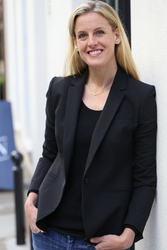 Amy Koop

Millbrae, California
Career Coach, Life Coach, Executive Coach
BA
I support mid-career executives, and early-career aspiring executives, to get unstuck from patterns of negative thinking and other common-but-frustrating roadblocks like indecision and lack of energy.
About Me
I have 20+ years of experience in the corporate world, as a marketing executive and team leader, and 40+ years as a person, athlete, sister, daughter, friend.
I had the incredible good fortune of having mentors and coaches who saw and helped me activate my unique gifts, and it's my guiding purpose to give that back to the world. I've never met anyone who didn't have something wonderful and incredibly unique to offer the world, and I absolutely love helping people find what that is for them, and support them on the journey to living a life with purpose.
The journey starts with helping my clients identify, understand and celebrate their unique gifts through a guided exploration of their mindset and perspectives about life and work. From there we find what resonates and build a plan to live into that resonance.
My clients often say that what helps them in our relationship is that I come from a place of non-judgment, and empathy for the roadblocks many of us find in our way to being truly fulfilled.
This is your one beautiful, perfectly imperfect life and I would be proud to partner with you in making the most of it. I believe wholeheartedly in our ability to create our own life story, and I facilitate that with tools to support the creation of a life you love.
I coach 1:1, groups and facilitate workshops.
Reviews
4 reviews (2 verified) (5.0)
Amy is a great coach, especially for people looking to level up in the marketing industry.

Kelsey
Amy was extremely helpful. She listened well, was thoughtful and creative in her thinking and inspired me to move toward my goals. After working with Amy I find myself energized. She gave me the tools I needed to find my own path and to handle any obstacles with confidence. I highly recommend Amy.

Meghan
Amy is empathetic and insightful and has a unique ability to provide me with the space and guidance I need to understand and process my challenges. Her approach is a nice balance of attention to my perspective along with an ability to offer other ways of looking at things. I have definitely seen the impact of our work together in my everyday life. I am grateful to have her support.

Marcie D.
I'd been struggling with a situation at work and it seemed like there was no good solution. Amy really helped me see different perspectives and allowed a space to brainstorm creative solutions and it was such a relief to put that challenge behind me, and understand how it tied into the bigger picture for me. Additionally, her professional experience and wisdom was a nice added touch that helped greatly. I'd highly recommend coaching with Amy.

Jeremiah Brooklen