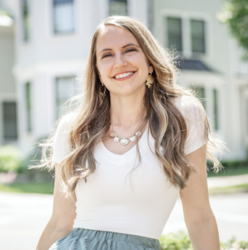 Amy Van Daele

Los Angeles, California
Life Coach, Spirituality Coach
Certified Mindfulness Meditation Teacher
I coach accomplished individuals who feel like something is missing. Through my coaching, you will uncover your truth and find sincere peace, happiness, and fulfillment within yourself
About Me
You have "all the things" society said you needed in order to be happy. You've checked almost every darn box, but you still don't feel fulfilled.
And what's worse, you are constantly striving to achieve the next thing that will fix you: lose the weight, meet your love, get that promotion, find the self-help book that will cure it all!
And when that doesn't work, that voice inside your head beats you up about it. "If you could only 'xyz,' then you'd be happy!" "Why can't you just get it together!"
You feel like you've tried it all—internal and external—and you're exhausted.
Take a deep breath.
There is nothing more to do. You've done enough. In fact, it's time to UNDO everything you've ever learned about yourself.
It's time to dive deep and get to know your truth so you can stop following everyone else's.
Everything you ever wanted is already within you. Let's heal what is blocking you from whole-heartedly living your most authentic, confident, and fulfilled life.
------------------
My Experience:
I am a recovered unfulfilled overachiever. Twelve years ago, I began my own journey of self-healing to uncover what was missing in my life. After years of meditation, coaching, mentoring, and spiritual teachings, I can honestly say that I am living a full, fulfilled, and authentic life as the best version of myself. I no longer need to do "all the things" to temporarily satisfy the "not enoughness" I felt in my heart. I have created a program to help you do the same.
My Training:
I am a certified mindfulness teacher through University of California, Berkeley's Greater Good Science Center. I have taken numerous trainings including Internal Family Systems, Mindful Self-Compassion, Resilience Toolkit, Trauma-Informed Mindfulness, and many more. I am currently getting my Master's in Marriage and Family Therapy at California State University, Northridge.
Reviews
3 reviews (5.0)
Working with Amy was like realizing I had been trying to put my life together with 200 sets of puzzle pieces from 199 other people. With Amy's help, I am taking away all the pieces I thought were me- all the pieces that caused so much pain and confusion - uncovering and removing each of them, until I uncover all the pieces that are mine. Everything has started clicking together beautifully, and I can look at a piece and say confidently, this piece is not mine, and then I find another and warmly say, ah, I remember you, welcome home. I wish I could better convey how good it feels to have a homecoming party for each piece of you. I also wish I could say the process is easy or painless. But what I can say with certainty is that it is worth it, and unlike anyone I have ever worked with, Amy creates a soft landing for all of us to discover ourselves. She compassionately helps us uncover our agency and we can then naturally and easily make positive and lasting changes for a healthier, more abundant life. I continue to grow- I hope I never stop- I have an abundant life today, I have the mental, emotional, and physical freedom to discover and be me. I have never experienced so much growth so quickly. If this is the healing you are looking for Amy has the experience and capacity to help guide you on your journey back home - to you. It is, in my opinion, the only journey worth investing in.

Kate
I have worked closely with Amy as a private mentor for close to five years and have to give her style of firm, yet compassionate guidance credit for a significant amount of my personal success. Amy does not coddle; she will tell you things that may be challenging to hear. That said, her instruction is always grounded in self-compassion and empathy towards all--the philosophy that learning to truly love and accept ourselves (ALL OF IT!) is the most rewarding part of growth. Amy's heart seems to come alive when she's presented with the opportunity to spark awakening in others, and she possesses a unique ability to relate and understand. She has always pushed me to grow beyond my perceived comfort level, into a place closer to true self-actualization. Working with Amy has helped me understand and embrace the journey I have been through, and focused my attention and openness for all the future will bring by embracing this moment, leaning in, and truly feeling. I cannot recommend her enough!

Derrick Ludvickson-Luna
Amy introduced me to Self-Compassion healing, and it has transformed my existence. Turning towards my pain, accepting what I am feeling, and giving myself love has expanded my world. Because of Amy's gentle encouragement and love, she reminds me again and again that dissolving my deepest pains is through loving myself. She empowers me, as I am the only one who can heal these deep, dark wounds. Amys enduring kindness, wisdom and expertise, gives me courage, inspiration, hope, love, and peace. Together we laugh, we cry, and we accept the perfectly "imperfect" existence of ourselves. Thank you Amy, for helping me recognize that I already am the woman I have always strived to be.

Elizabeth Norwood