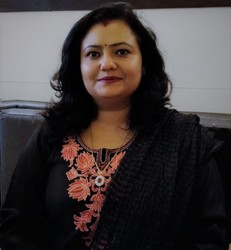 Leadership Coach, Life Coach, Relationship Coach
MA (English) , MA (Education),M.Phil(Education)
I help driven individuals and leader to achieve their desired aspirations and goals through structured sessions,tools and strategies thereby enabling them to live a life of fulfillment and achievement
About Me
I firmly believe that WE ARE THE DESIGNERS OF OUR LIFE & we are born to live life to the fullest.
My coaching sessions/programmes will enable you to:
- Achieve personal development goals
- Leadership goals
- Overcome personal challenges
- Reduce stress
- Achieve peace and happiness in your life and relationships
- Resolve relationship issues
- Overcome lack of understanding or misunderstanding in your relationship
- Overcome insecurities, infidelity and forgive your partner willingly
- Overcome your blocks in relationship
- Get rid of stress
- Understand yourself & your partner better
- Improve communication skills within your relationships
- Know what keeps you stuck in your relationship
- Achieve peace, happiness and fulfilling relationship
- Transform your life
The duration of coaching sessions is dependent on the goals that a client wants to reach. I have a variety of programs that are customized to suit the needs and requirements of my clients so that they achieve their goals at a faster pace, empowered with easy, doable actions and time tested tools and strategies
I am an ICF- ACC credentialed Life and Leadership Coach, NLP Coach (Practioner)Strategic Intervention Coach , NLP Trainer, an EFT professional and a Reiki Grandmaster. We humans are a sum of practicality and spirituality and my holistic approach in coaching enables me to cater to my clients in a beneficial way. My clients find me extremely empathetic, optimistic, resourceful and accountable. They say,"Anamika ,you execute coaching with a personal touch, explore the root cause of the problem and empower us to eliminate with easy, doable actions and strategies!"
Now, if you want to reach a life of your desires, let's pave the way together so that you reach your goal in the most effective way possible and in a shorter span of time. I know that you are ready for it!
Reviews
4 reviews (5.0)
Theres nothing scarier than taking the first steps towards asking somebody to help you deal with a really difficult, personal situation; in times like these finding the right person is essential. Mrs Anamika in my opinion and experience is definitely that person. COVID - 19 pandemic has costed many with their jobs and I was one of them. Life has shown tremendous uncertainty in these last 4 months and I was in such a dilemma that I lost my job and having another opportunity in my hand I could not travel due to this pandemic. I was frustrated, nervous and afraid of loosing career options. A safe place are the words that I would use to describe my experience. I was and still am very aware of the fact that Mrs Anamika made sure each time I spoke with her, I was in a relaxed state of mind and was able to speak freely about anything and everything on my mind. Being a shy person I find it difficult opening up to people and yet I didnt seem to have any problem with Mrs Anamika. For me she is a person with whom I could stop pretending all was well and simply be me, dealing with issues until I got a solution. Mrs Anamika, provided me with excellent guidance and words of wisdom that I find myself carrying into all sorts of situations today allowing me to deal with things in a better manner than I would have in the past. Shes a great listener, and a true carer. Its her countless qualities of listening, caring, encouraging and understanding that makes you realise not only do you not want to but that you dont have to hold back from her, you can trust Mrs Anamika, be real and open with her and its this openness that is one of the first steps to freedom. I found myself smiling, calm and happy within a month. Im glad I had her to help me during that difficult time, Im glad I know theres help available if I need it. If I was asked to recommend a life-coach to anybody it would be Mrs Anamika , without a shadow of doubt."

Parth Shukla
All the people reading this review, if you are suffering from any sort of unrest be it emotional, mental or any other sort you should definitely consult Mrs. Anamika Mishra once. She has been my life coach for over a period of 4years and still counting. All I can say that her advices are the best, the way she analyses an individual is far beyond any method you will see as it comes from her 20+ years in the teaching field. She is a wholesome counsellor, therapist and a person you can count on. A session with her and you can feel the change is all I can say.

Deepak
NLP Sessions by Mrs. Anamika Mishra Before going for NLP Session by Anamika Mishra, my thought process and behavior towards life was very different. I was very impatient and short tempered. Instead of understanding the situation and waiting for the right time to react, I used to panic and get angry. But after going through NLP, I changed. My way of dealing with situations, thought process and behavior started changing. I started to control my anger and be polite and patient. It also made me able to think and understand the circumstances and how to deal with it. I started to take life in a positive way. The sessions helped me to have clarity in life and at the same time it made me able to take important decisions in life. I am really grateful to Anamika for taking me through the NLP Sessions and making me a better person. And with her guidance, I everyday try to be a better person. She understands the problems very well. Her thoughts are very clear and she is also very good at making people understand what she is saying. She is very patient and positive. Anamika always motivates a person and helps till the time the problem is resolved. Even after the sessions are over, she stays in touch and ask about the progress. I trust Anamika on whatever guidance and advises she gives and also follow them accordingly. I really admire her for the honesty and helping attitude. Keep the good work and keep spreading happiness. Anamika is very hard working and I wish her all the very best.

Vishwambhara
Anamika Mishra has been a life changer for me . She is an excellent life coach . I have been suffering from anxiety and depression most of my life and started taking sessions with her. Her positive approach and problem solving skills helped me change my mindset and enjoy the lighter side of my life. She has been a constant support and source of positive reinforcement towards building my confidence. She is the best

Avantika Pathak
The Smart Way To Find A Coach

1 Describe Your Goals

2 Get Matched

3 Free Consultations
Find My Ideal Coach Now