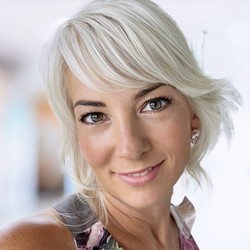 Andrea Ruth Walker

Cabarete, Puerto Plata
Life Coach, Spirituality Coach
N.D, Theta Healing, Integrated Energy Therapy
I work with people who are ready to make radical changes in their lives. I help my clients reconnect with their true Self so that they can experience Joy in all areas of their lives.
Details

Cabarete, Puerto Plata

438-525-8561

Send Message
Visit Website
Hourly Rate: $150 to $200 US Dollars
Gender: Female
About Me
Has it been difficult to find your Life Purpose or create a life filled with all the things that you desire? Has work taken over your thoughts, even when you have time off and you have forgotten how to include aspects of your life?
It can be very difficult to have perspective on where you can create balance between finding a career, maintaining it and having a fulfilling personal life. Often we are so overwhelmed with the steps taken resulting in an unbalanced life.
An outside perspective with someone who has been through similar situations and has the background to assist you in creating the changes you require to live your life with balance and joy is pivotal.
Using my unique 3 step process, Rediscover, Reconnect and Redirect, you will join together all aspects of your life with passion and easily be able to prioritise creating a balanced life.
Andrea Walker N.D, Certified Coach has over 30 years of experience in Coaching. Additionally She has studied many different methodologies: Tapping, Theta Healing, NLP, Integrated Energy Therapy and Access Consciousness. She also offers accredited courses in Access Consciousness and Integrated Energy Therapy.
Adding these dynamic tools to her Coaching, she assists clients in creating clarity around what would bring true joy and balance to their lives.
Now based in the Dominican Republic teaching Balance as a life skill through Online and in person Coaching, Workshops and customised Soul-Retreats. Andrea's approach to coaching is dynamic and based upon the specific areas of your life where balance is lacking.
Coaching is a personal experience and before we begin, I invite you to have a free 15 minute consultation.
Private sessions online or in-person.
Reviews
19 reviews (5.0)
It's not about the Story, it's about the here and now. And Andrea is bringing you exactly there, with all her wisdom. She helped me to understand and see myself with different eyes and helped me to create a deep feeling of abundance to my nature and my puropse. With me it was a emotional ride from grief to anger over insecurity to total happyness. Thank you so much, Andrea.

Sandra C.
Before Andrea I wanted to help everybody and any animal. I booked an appointment for a friend but she had no time, so I got all the amazing things I wished for my friend. Andrea new without explanation what needed to be corrected in my subconscious. She gave me a few tips I use in my daily routine. life is so much more fun. How easy could my life have been if I would have known her earlier. Do not hesitate. See her, your life will be joy and gratitude.

Roselinde
''Andrea is like a beacon of hope and clarity. I have been working with Andrea for several weeks. Her ability to identifying the pattern you hold is magical. Even more so is the ability to help you clear it away with tools and techniques you can carry with you on the daily. I recognize a significant change in myself when triggered or self-aware of an issue/pattern arises. I can back track to what work we have done. I am appreciative and grateful for our time and work together. I implore you to consider booking a session with her!''

Nat
I have many feelings I wanna share here. I feel so grateful and deeply happy. I feel amazingly good in my body, mind and spirit. Before to see Andrea, I was worried about the money and not sure if it would actually be what I need the most. To be honest, I'm so glad I've pushed myself into this adventure with Andrea. She took on her free time to explain me the process and many other very usefull information; so I could really understand and be confident for the session. Beautiful souls, I truly know now what is my gift, who I am and what I wanna do now to reach my dreams and live the life I desire and deserve. Only one session and it is so powerful ! Any issues can be treated with her. I would even say, better to start with Andrea to clean and reset what is needed to be, so you can fill up your cup again with unconditional love. Thank you Andrea, from the deepest bottom of my heart. You are one of my beautiful highlights here in Cabarete. Namaste, smile and love to you all. Lucie

Lucie M
Engaging in sessions with Andrea has truly revolutionized my life, an experience filled with a profound sense of compassion. Her wisdom and insight have been a guiding light, leading me on a heartwarming journey of self-discovery and even more. Her gentle guidance and understanding has reshaped my perspective, leaving a lasting impact.

Marina
I just had a session with Andrea and I have to say I am feeling lighter. I am feeling more confident, empowered and overall happy. She has a very unique way of seeing through you and guiding you into the answers that lie within us I do hope to have more sessions with her in the future. If you have a chance to book with her if youre looking for personal and spiritual growth, I highly recommend her. Very grateful

Anahi Cespedes
Andrea is an extraordinary healer whose skills, intuition, and empathy combined together create an unforgettable experience. With impressive expertise, and providing insightful guidance toward personal and professional growth I felt amazing only after one session. The innate intuition is a true gift, as she delves beneath the surface, unraveling the hidden patterns and emotions, and limiting beliefs that keep someone from achieving their true potential. Moreover, her special empathy and compassionate presence create a safe space for exploration and vulnerability, offering an environment of trust and authenticity.

Diana
My sessions with Andrea have always been great, but there were a couple in particular that stand out in my mind where I walked in feeling awful in my body and I walked out completely transformed. She works on many levels, and helps you identify deep patterns that are no longer serving you in order to reprogram and heal. Andrea is very intuitive in her approach and I highly recommend her!

Erika
Andrea Ruth Walker is an amazing person. She has insights to get you the results you need and a unique process to help with the blocks that keep you from living your best life. In just a few sessions, I have seen a difference in my personal growth and feel a new balance in my life. I highly recommend Andrea!

Marianna
I have been accompanied by Andréa for the past 10 years! She has impressive spiritual strength and expertise in multiple areas of the human and spiritual body and naturopathy. Her knowledge has greatly helped me to feel better in my body, and my soul and Help me to understand my own strength and above all to free myself from my blockages. Andrea is harmony with oneself. A session with her will confirm her great expertise! I just love to be around her and get stronger !

Josee Rainville
Andrea was able to identify key areas that up until now I was oblivious to. She was able to masterfully identify the one thing that needed to be addressed to unravel a whole mess with ease. Highly recommend! I'm excited to see what I can do moving forward!

Ash
It was a very positive experience being able to feel confident and comfortable with Andrea. She pinpointed what I needed to work on realizing with patience and time, step by step, day by day the growth will come.

Marjorie L.
I'm grateful to have discovered ThetaHealing. I can't recommend it enough. My session with Andréa Ruth Walker felt blissful by replacing my negative beliefs with positive ones—instantly. THANK YOU ANDRÉA!

Sylvie Marie Darêche
Andrea is a great healer. I feel me reborn after her treatment. I had a bad coughing which was connecting with my fears. After healing I have put my fears behind me and now I can look forward with confidence. It's wonderful. Thanks a lot!

Fatima Nasrullayeva-Ojagova
Estoy muy feliz por la primera asesoría que tuve con Andréa. Ella dedicó más de 3 horas en explicarme, escucharme y aconsejarme de una forma muy profesional. Definitivamente quiero seguir recibiendo sus servicios!

Angeles Risopatrón
I had a wonderful session with Andrea yesterday. This was the first time we met and I had no expectations on what will happen. The session itself turned out to be a huge gift, it was miracolous and I am really satisfied and happy with the outcome, and enjoyed the session very much. A lot has been cleared on an important past experience. I would like to recommend the healing services of Andrea, and I'm waiting for our upcoming appointment for another session. Thank you

Krisztina Nagy
At a time in my life when I was being challenged, Andrea created space for me to be and grow. Her approach is docile yet bold. I find myself chanting my mantras and recognize change happening all around me. The tools she shared have allowed me to continue healing. I am grateful for our beach walk sessions!

Nat Mailhot
Andréa's love and dedication to help others heal is greatly felt and so so so appreciated and grateful.

Manon Calvignac
Andrea is an amazingly intuitive and insightful coach. Her soft-spoken, yet direct style immediately provides a comfort level that allow a depth of communication that I have seldom, if ever, experienced in a coaching environment. I highly recommend Andrea to anyone that is serious about understanding their emotional maturity and the forces and events that have influenced the evolution to their current state. Given the opportunity, Andrea can help develop a roadmap to educate and guide her clients on a path of serious personal growth.

Mark A.