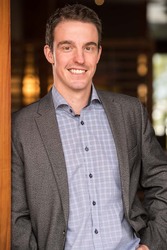 Andrew Langford

Victoria, British Columbia
Leadership Coach, Career Coach, Entrepreneurship Coach
BA, Licensed Human Element Practitioner, Implicit Career Search Practitioner
I offer Organic Leadership, a hospitality-centric program, and The Implicit Career Search. I help leaders communicate effectively, avoid burnout and work aligned with their purpose.
About Me
I created Organic Leadership to address endemic issues within the hospitality industry, like burnout, ineffective communication and low morale. Using my foundation in hospitality and internationally recognized coaching and team facilitation training, I bring a fresh take to overcome obstacles, unite teams and allow leaders and staff to maximize their potential. The result: a healthy work environment, better guest experiences, less turnover, and increased net profit.
In addition to Organic Leadership, I offer The Implicit Career Search, a program designed to uncover everyone's unique work purpose, and design a career plan based on that. It focuses on self-leadership, and offers keen insight into the work that we do, and why we do it. It embraces the concepts of choice and self-determination.
I believe that through self-leadership, we have the opportunity to seize control over our lives, and experience fulfillment every day. I am driven to help people experience less stress, more joy and develop more meaningful relationships.
My formal training in leadership and human potential is through Erickson Coaching International, the University of Victoria, The Human Element (via the Schutz Company), the Implicit Career Search, and PEAT Wisdom Development. I have also been influenced and inspired by my work with Restorative Justice and alternative dispute resolution. My approach combines the schools of psychology, neuroscience, and philosophy.
My passion for coaching is rooted in my desire to make a positive impact in the lives of those around me, and through effective collaboration and achievement. Above all else, I value the experience of joy and inspiring joy in others. I believe that we all inherently possess the answers to our most challenging questions.
I look forward to working together and overcoming whatever obstacles you face, finding the answers to any questions you may be asking - and having a good time during the journey.
Reviews
I found Andrew incredibly humble, intelligent and real. I had been struggling with my professional purpose in life and was waffling between giving into my fears and going for something simple, or aspiring for a job that was outside of my comfort zone. Andrew helped me realize that I had created a false binary and it was absolutely possible for me to find something that met all my needs. In times with I felt too stuck in my head, he was always able to gently inquire and help me go in a new direction. One of the traits I appreciate most about his is patience; I never felt pushed to have an ah-ha moment - which, of course, helped me have multiple. Andrew met me where I was at, and it really helped me tap into deeper vulnerability. I'm so grateful for his support!

Shanna, Volunteer Coordinator and Nursing Student, Victoria, BC.