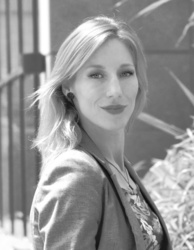 Andromeda LC

Al Hamalah, Northern
Spirituality Coach, Executive Coach, Life Coach
Bachelor in Social Studies and Adult Education
Please use my services to solve personal or private problems, decisions, weight, finance or boosting projects. I am also a quantum healer and help with leaping out of the negative past and into ...
About Me
Currently she has 1 spots to coach/heal for 3 months, on weekly or 2-weekly basis. You can book one long session to get started.
Andromeda LC is the combination of East & West: totally unbiased, non-judgemental, she makes a great pioneer and can work with any age, executive position, privacy level, culture, religion and background.
She studied the human development, behaviour, and consciousness along with the influence and impact of environments and relationships on all aspects of personal, modern lives and illnesses. She has the power to wake up people and give their voice back.
She is passionate about old, ancient techniques with modern Quantum/Metaphysics. She healed people from their adversity, fears, and deeply rooted wellbeing and (mental, heart) health issues.
- Anxiety, Trauma
- Addictions
- Narcississm (in all relationships)
- Weight or Chronic Health Issues
- Anti-Smoking
Also contact her for:
- Conscious Parenting Skills, Psychology
- Holistic Health, Energy work, Reiki sessions
- Transformations, trauma, other subconscious work.
- Other
Andromeda LC completed Social Science in The Netherlands, for improvement of personal and work life:
- Adult Education (Learner based learning),
- Coaching, Creative & Critical Thinking ( IDEO Company),
- Project Development, Training & Transformation
Her methodology for personal therapeutic coaching is based on subconscious communication, decisions, childhood memories and past-life integration.
She also specialises in Meditation, Breath, Ancestral Healing, Voice Dialogue, Chronic Health Issues. Clients experience a huge overall relief and positivity.
Her 18 years in both personal therapies and corporate sales and change management, provides her with best of both worlds: private and entrepreneurial problem-solving.
Her bachelor degree in Social Work and the latest research at Harvard allows her to coach Adults into true understanding and the mind shift to become a conscious participant, parent and leader
Reviews
3 reviews (1 verified) (5.0)
She knows what shes doing. And youll be thankful youve talked to her.

Alaska
The coaching sessions with Andromeda are amazing. With her very gentle and non judgmental approach she is creating such a safe space that you feel supported and understood, receiving her undivided attention and guidance. She has a very rich knowledge that stretches from psychology, human behaviour, relationships, through practical business matters, to health, healing, spirituality and subtle world of energy. I got many "aha!" moments while being coached by Andromeda that changed the way I view myself, others, our whole life process. This helped me in my decision-making process pertaining to my personal and my professional life. She's fully there with you and ready to tackle anything that comes! We need more coaches and healers like her! Thank you so much, Andromeda!

I. Viola
The experience was calm and comfortable. Andromeda makes it easy to trust the process and to open up to possibilities of change. I would 100% recommend coaching with Andromeda.

Sonali