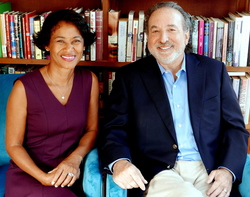 Angel and Charles Granoff

Brookline, Massachusetts
Relationship Coach, Family Coach
LMFT, LICSW
We work with Couples who are experiencing communication or trust issues. Our specialty is multi racial and cultural partnerships Our professional and personal experience helps us understand you.
About Me
INTENTIONAL DISCOVERY FOR COUPLES
If you're seeking better understanding and communication to help strengthen your relationship, then we encourage you to contact us. Our unique couple-to-couple approach combines Angels' skills as a Certified Coach with those of her husband, Charles Granoff, a licensed Independent Clinical Social Worker (LISCW), and a licensed marriage and family therapist (LMFT). Having both a male and female perspective provides a balance for our clients, as well as the fact that we are inter-racial, inter-faith and inter-cultural we understand navigating different upbringings and choices. The added bonus is we are married as well so we know first hand the challenges and work it takes for a relationship to be fulfilling.
Reviews
Angel and Charles doesn't have any reviews yet.