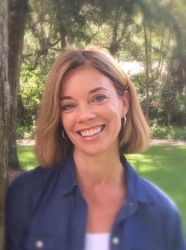 Angela Jackson

Apopka, Florida
Life Coach
BA, Certified Life Coach
I coach women that have gone through loss and feel stuck. I help provide clarity for my clients so that they recognize what is possible, and give them tools to take their next step.
About Me
I am a seeker, just like you. In my early adulthood, I went from job to job and relationship to relationship, hoping that my next choice would finally make my life right, perfect, and happy. I eventually married, settled down, and dove head-first into my business. Still, I found myself returning again and again to that familiar, stale, dead-end place: emptiness.
I set off on a personal development quest–coaching, seminars, books– until I found the tools I'd been looking for. Through the work of Dr. Martha Beck, I discovered my own North Star and cultivated my inner compass for following it. I learned that my thoughts and beliefs were creating my limitations, and that with the right tools I could transcend those limits and live my truest, most joyful life.
I felt called to share these tools with others and am now a Martha Beck Certified Life Coach. I love helping others get in touch with their true selves and find that the answers they've been seeking are already right there, inside them. Uncovering those answers is what gives people the courage, confidence, and clarity to move forward. I am living my purpose by helping people live theirs.
When, after 12 happy years together, my husband passed away, I knew that I had everything I needed within me to heal the pain of his loss. I didn't need to let anyone else dictate the course of my grief, as I gave myself permission to lean into the pain and feel it, making room for new feelings and experiences to come into my life.
Like you, I spent a long time searching for the remedy to my loneliness and pain. Now I know that every answer I seek is already inside me. That's how I know the answers are inside of you, too. I can help you find them.
Reviews
3 reviews (5.0)
My Equus coaching session was very affirming of what I had already been mulling around, Angela is great at helping you gain clarity in your thoughts, revealing stumbling blocks and bringing bout more self awareness and understanding. She helps connect the dots.

Andrea Carter, Windemere, FL
I have made more and more positive change in the months since I worked with Angela, than any time in my life. Her kindness and competence helped me come back from the brink, and helped me open that space inside myself of that to happen.

Tom Cannold, Orlando, FL
Angela is so easy to talk to and puts me at ease to open up and discuss my deepest truths. She provides me with a fresh perspective on the issues I have in my life so that I can move forward through my obstacles. With Angela's guidance and support this year she has encouraged me to pursue my goals and create my best life! Thank you Angela!

Ruthie Edelson, San Diego CA