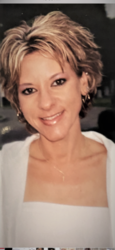 Angela Shank

Tampa, Florida
Relationship Coach, Life Coach, Health and Fitness Coach
I coach to deepen relationships & create new ones while building self confidence & enhancing communication/social skills. If you are struggling with anxiety or feeling stuck I will pull you out!
About Me
I have earned my Professional Certified Coach accreditation with the Academy of Creative Coaching. My approach to coaching is to most importantly creating a safe and trusting bond where you can feel free to share and speak openly and honestly. I will listen with curiosity and genuine interest to discover where you are now, where you want to be and identify the gap in between. I will co create action steps with you to close that gap and establish agreed upon short and long term goals. I will provide you with accountability, motivation and support every step of the way along your journey. I specialize in working with men through behavior modification and will help identify action steps to take in order change your mindset. I focus on forward thinking and the future. I will help you break through limiting beliefs and will listen to hear your need to move forward. I will offer suggestions with permission but never solutions. I will guide and encourage you to come up with your own using powerful questioning to uncover new awareness. I will help you to build and maintain healthy relationships by creating awareness of the importance of quality in relationships. I use tools such as books, and journaling to help you recognize the inner thoughts you have yet to express. I will allow you space to continue a thought and to process the questions I pose. I provide email and text support between sessions. I will be a partner in your goals and will guide but never solve. Your power is what you will use to get you to your goal, only I will be right along side you. Having a coach is similar to having a personal trainer. I've discovered that you have to take care of YOU before you can be any good to anyone else. It is difficult to put ourselves first but it's necessary to live a purposeful, joyful life and I have found that this concept is most challenging for men that is why I specialize in this type of coaching and with men. Coaching is the greatest way to start taking care of you!
Reviews
28 reviews (4 verified) (5.0)
When I first started working with Angela, we both knew I would be on the more difficult side to break through with at first because I felt defined by events that had taken place far, far back in my life but couldn't figure out what was stopping me from working towards taking my life back at 42. But I am seeing a lot more hope for me now than I did before I started working with her, and that needs to be taken as praise for how she coaches. The key is that Coach Angela takes the time to get to know you...the intake worksheets she gave me allowed me to be honest with how I felt and where I was coming from. From there, she asks the right questions to help me figure out what's stopping me...and what can be done about it. She's strong when she needs to be, and I needed somebody who is strong. I know Angela isn't a therapist, but she has done for my mental health by helping me dig and locate where the core problems really are than any other professional I have ever talked to. I would recommend her in a heartbeat if you need assistance getting unstuck.

David LeSaffre
Angela has been a God send for my 19 year old son. He was diagnosed with Selective Mutism and Social Anxiety. Although not diagnose, I believe he is also on the autism spectrum. I have tried therapy for him and they would give up because he wouldn't talk. Somehow Angela has gotten him to talk and communicate in a way no one else was able to do. He logs in to their appointments without me having to remind him or force him. I am beyond grateful for what Angela has been able to accomplish with my son. I was feeling alone and hopeless in dealing with him. But I now feel we have a caring partner in Nick's journey to launching into adulthood.

Nick's Mom
Angela really listens and helps create goals that are very individualized. She has a firm yet caring way of making her clients accountable. I'm really enjoying working with her!

MaryEllen M
Angela has been the breath of fresh air I needed. Shes helped me in more ways than I could have ever imagined. I look forward to more sessions with her!

Kim Hill
My experience with Angela has been nothing but positive. I have never worked with a life coach before and was somewhat apprehensive. But as soon as I talked with her I felt at ease. I went with my gut and chose her as my coach. Not disappointed. She has helped me identify what I need to and the steps to take to get there. I am on the process of reinvention and Angela has been a key support and encouragement. She has been flexible with our schedule and has been available between sessions when I would like some input. Highly recommended!!

Paul
An exceptionally talented lady with tremendous vision and intellect. A real pleasure to work with with no boundaries. A privilege to know and have access to 24/7 full of energy creative thinking and support. Well worth the short time investment.

paul zimmerman
Nothing about Angela is scripted. She listens and responds with questions that draw you in to want to share with her. Shes so knowledgeable and genuine I placed my trust in her and in four months have lost 25 lbs. Even more than the weight loss, I find that she is positively influencing my life relationships. You owe it to yourself to spend some time talking with Angela.

Lou F
Angela has become a very important part of my well being. She is bright, smart and really knows how to connect with people. During this stressful Pandemic she really knows how to take a take The Weight off my shoulders. Keep up the wonderful work Angela.

Americo Gonzalez
Angela, Is wonderful to work with and always there for help/advice top bout how Coach PS I never write reviews but had to for her services thanks Angela !!

Bob P
Angela is a wonderful life coach because she is a great listener. She helped me with the loss of my parents. They both died of lung cancer just over a year apart. Even though it has been several years since their deaths, Angela is there to help with deal with the anniversary of their deaths, because of the grief and emotions that it always brings to the surface. This year was even harder with news of a friends cancer diagnosis coming to me on the anniversary of my fathers cancer diagnosis. Angela listened and helped me process the emotions that this brought up. She excels at knowing what needs to be said and what you need to discover on your own. She will help you with your healing process and beyond.

Anonymous
I've known Angela for many years. She has a kind a gentle personality that is huge in the coaching business. She has the ability to tell you what you need to hear without damaging your self esteem. I would highly recommend her.

Tammy McInerney
My experience with Angela Shank as a life coach was 100 percent positive and Ill be having more sessions with her as a result. She has a gentle yet guiding approach that helped me talk through the current challenges I am facing and offered different ways in which to think about them, leading to my own self awareness. I highly recommend Angela as a life coach.

Joanne Zimmerman
Angela Is a wonderful life coach. I am a single mother of a young daughter, and she has helped coach me through some tough situations. I find I have gained a great deal of strength and confidence through her coaching to be a better person and mother.

Sissy
Angela is a great coach, good listener and patient. keeps me motivated and focused while guiding me toward my goals.

vickey Bardo
Angela is a pleasure to work with. She creates a comfortable environment and makes it easy to trust and share.

John Medina
Being an experienced "yo-yo" dieter, I've had many successes and failures with weight loss. When deciding to try something new, I discovered Angela, who was recommended by a friend. She gave me some helpful tips like eating lots more green beans and doing some exercises that she found helpful herself. She has a vast background in weight loss motivation. But the most benefit that I gained while working with Angela is that we worked on the source of my stress eating patterns. She helped me to understand the reason why I turned to food for comfort as we talked through many problems in my life. Angela was always positive, non judgmental and encouraging. She listened with a compassionate and understanding ear. She helped me reach my goals on many levels. Now Angela is my good friend----not cookies!

Diane S.
Wow Angela is amazing. So easy to talk to. Really listens. Really made me feel like she cares and understands. I intend to speak with her again and would highly recommend her to anyone that feels that feels they need some coaching or a little help navigating through some things in their life.

Maria Roldan
Angela has been my mentor and friend and I appreciate her knowledge and compassion throughout our time together as a team. Thank you always for your support.

Carla Warren
Angela is wonderful. She is easy to talk to and has a way of motivating you to do what you know you need to do. I'm so thankful to have found her! You will leave your judgement free session feeling refreshed and ready to move forward! I cannot recommend her enough!

Jillian Vos
Excellent service & fantastic coach!! Receiving coaching will improve your life, whether it be personal or business. Having someone in your corner encouraging you, helping you goal plan and also being realistic will guide you purposefully towards your goal and achieve success. You are worth it and you should have a coach!

Chris
Angela is an absolute joy! Her knowledge and genuine compassion for others is incomparable! I would highly recommend her services to anyone. Shes truly amazing at what she does.

Diana Beltran
What a great person and positive energy. I couldnt ask for a better experience. (:

Rich fleri
My experience with Angela was truly a heartfelt experience. She made me feel so at ease throughout the entire session. Her professionalism, kind words and passion for coaching allowed me to open up to her easily. I highly recommend Angela to anyone looking for a life coach. She is truly amazing!

Dawn Novitsky
I'm not normally one to write reviews but I had a great experience working with Angela. She's so patient, kind and truly has your best interest at heart. She helped me set goals i could actually meet and i got results!! You can tell she's passionate about what she does. I have never really worked with a life coach before so i was a little nervous and didn't know what to expect but she made it all very easy for me.

Joann Caffrey
Very positive experience, Angela is great at what she does and am very satisfied with her knowledge and skills to get the job done. Everyday is better for me because of Angela. Thank you for everything.

Rico Gonzalez
Angela has been a great coach and partner in helping me lose weight and maintaining it!!

Andy V
Angela provided assistance for me in my time of need. Her help and assistance will be something I will always remember.

Gene Mingoia
Angela is a very professional life coach! She is a great listener and so easy to talk to! She always puts a smile on my face! It is hard to put into words how much she has helped me! She will be a plus to your company!

Thomas Carraher