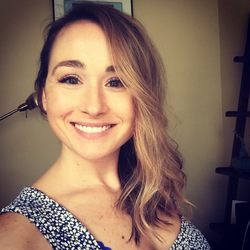 Angie Ilg Lakewood, Ohio
Life Coach, Relationship Coach, Entrepreneurship Coach
BA, minor in Psychology
I work with people who want peace, confidence, and happiness. I help my clients go from anxiety, self-rejection, self-doubt, and overwhelm, to feeling relief, knowing who they are and enjoying life!
About Me
Hi there! My name is Angie, and I absolutely LOVE supporting others in not only moving through fear and limitation, but in discovering who they truly are and truly loving themselves - in all of their MAGNIFICENCE!
In my personal journey, I've grown through the challenges of OCD, an eating disorder, toxic relationships, misperceptions about myself and about life... I used to live in my head and second-guess everything. I didn't truly love or value myself, and my life reflected that.
Through working with coaches and doing my own mental, emotional, and spiritual healing and growth, I'm now so blessed and honored to help others move through their perceived limitations, to not only feel more blissful, peaceful, and in LOVE with themselves and life! But also to discover more of who they truly are and what they want in life, and go forward in bringing that into reality <3
Reviews
Angie has 9 reviews.
I truly love working with Angie, she is an incredible guiding light in my life, no matter dark things have seemed.

Angie has helped me to form an entirely new way of understanding my mind, myself and life, one step at a time, and I am so grateful for who I am today and the freedom I am experiencing.

Angie has always met me exactly where I'm at with understanding, wisdom and belief in me. I am truly grateful for Angie's coaching and presence in my life, today I am a woman who is and who feels empowered and bursting with gratitude for what I am doing and creating in my life.

Grace, Australia
I have been so lucky to have Angie in my life. By the end of our talks I always find that I can "get a deep breath", if that makes sense. She eases my anxiety by helping me talk out whatever the issue or fear is and has such an understanding and supportive way of guiding me through it. One of the most beneficial things I've learned from Angie, and there are A LOT of things I've learned from her, is how to handle my anxiety ON MY OWN. I know that is the most valuable because I can carry it with me throughout my whole life. In the meantime I'm lucky that she's been able to be there for me when I really need her. Thank you, Angie!!!

Rachel, Los Angeles, CA
It has been an incredible experience working with Angie. She has allowed me to go from feeling chaotic and overwhelm to feeling resourceful and hopeful. She guides me to source from within and reminds me that my life "can change in an instant".

She is incredibly empathetic, reliably validating, and gently challenging in her approach. After two sessions with Angie, I informed the psychoanalyst that I had been seeing for 10 months that I was no longer going to be working with him. I realized that two sessions with Angie helped me to take a huge step towards my goals; a step that I was not able to take while working with my psychoanalyst.

I plan to continue working with Angie. I feel that she is capable and quite skilled at tackling a wide range of life issues. I have found me a gem!

Katherine, Clayton, NJ
Working with Angie has been incredible. She has a way of taking a problem I have that seems so complicated and overwhelming, and she turns it into a simple equation with problem and possible solutions. She not only listens, but somehow understands even the things that I'm not able to express very well in words. It's as if she knows my struggle before I can even grasp what it is that I'm struggling with or trying to solve. I have found that I often reflect on advice she has given me in the past, and it helps in future situations as well. It is hard to even put into words the difference she has made in my life. If I had to summarize it into one word I guess I would say "ease." I feel that I can live more at ease because of the many tools she has given me. What an incredible gift she has, and I'm so thankful that she has shared it with me!

Becca, Cleveland, OH
My coaching session with Angie was highly valuable. With her help I was able to see through a significant road block and gain clarity on my goals. It's amazing that so much benefit came out of a single session.

Joe, Lorain, OH
I initially hired Angie as a coach because I was struggling to
prioritize my own interests. You might say I was struggling to be
selfish and would overextend myself for others on a regular basis. I
am the owner of a law firm, and this issue arose even at work. As my
company evolved, I felt guilt changing policies and practices,
worrying excessively that it would be more difficult or less enjoyable
for employees.

I also felt guilt associated with thinking positive thoughts about
myself. These issues caused a great deal of stress on a regular basis.

Angie somehow helped me understand the advice I had heard so many
times: we have to take care of ourselves to take care of other people.
Those words have always made sense, but I was never able to follow
them. It was as if my emotions did not understand it although my brain
always had.

I purchased a coaching package from Angie and feel like a new person.
The funny thing is that I am doing almost exactly the same things I
did previously but no longer feel the same guilt and turmoil about
making decisions that factor in my own interests.

Hiring Angie as a Coach was life-changing for me. She has a rare
talent of fostering openness with her clients and at wading through a
sea of emotional turmoil to find the island of tranquility that had
always been there. I highly recommend Angie as a Coach!

Stephen, San Francisco, CA
Angie is a loving and intuitive coach. She helped me a lot with some anxiety I was experiencing around a new relationship. She was able to calm me down and help me see things from a healthy, rational perspective. I felt like she was able to empathize and relate to what I was going through. She was understanding and non-judgemental, and I felt safe telling her things that were really personal.

Mathesy, San Francisco, CA
My experience with Angie has been nothing short of life-changing. She is so nurturing, kind-hearted, and very attentive. She is highly intuitive and has helped me piece together a lot of chaotic details in my life that I did not connect on my own. This has led to some significant epiphanies about my life as it is and where I will go in the future. Also, her demeanor has a natural calming affect, which helps when you're going through high-stress situations or life circumstances. When she talks to you, you can't help but be honest because with her it is a judge free zone. This is so important to me, as I feel like coaching sometimes can feel a bit more militant and action-based, and she allows me to really feel into the root of my issues. Ultimately, this helps me be a better life partner, friend, and business owner. I've recommended Angie to my friends and family and would highly recommend her to anyone looking for understanding and sound guidance in building the next steps for a better future.

June
I have been working with Angie for 3 months now. It is hard to explain what her services offered me but it has been life changing. She has provided direction for me in both a professional and personal way. Helping me find direction in what I want to do and who I really am. She taught me to understand I am perfect just the way I am, I can't change what others think or how they think of me, how to stop those negative scripts from running in my mind (making assumptions about me and assumptions about what others are thinking) and becoming more comfortable with myself and finding inner peace. She also taught me it is never too late to make changes…and that means at any age! It was with her support and direction I have done so much with reaching out and trying things….with so much success! She has helped me release my inner bohemian and artist!

Liz, Cleveland, Ohio