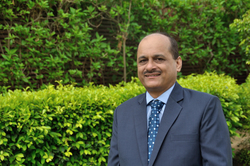 Anil Bahl

New Delhi, Delhi
Life Coach, Executive Coach, Spirituality Coach
MBA, Psychology, CEC, MSLC
Explore your Hidden Potential. Go Beyond Inner Limitations. Uncover and Release Painful thoughts. Package includes one weekly call and unlimited follow-up support.on email
Details

New Delhi, Delhi
Hourly Rate: $100 to $150 US Dollars
Gender: Male
About Me
Anil Bahl uses Ontology and Socratic Questioning model in his Coaching and has coached people from diverse background.
He has coached people from Promoters, CEO's to Managers and Executives and from Entrepreneur to Students.
In his experience, clients cause magical shift in their important areas of Life within a period of 4 weeks of Coaching.
Reviews
9 reviews (5.0)
I have benefited profoundly from Life Coaching. I could not imagine myself, to be stuck with self constructed myths and which I saw only under Anil's Coaching. These myths were so big, that they directly and literally controlled (rather affected) my Life, coming out of which was impossible, since I wasn't aware that they even existed, until they ruined my life. I would recommend such a committed, dedicated, knowledgeable, confident Life Coach to anybody, who is Stuck in Life. His only goal is to end the Misery of the sufferers! He is also an inspiration for me.

Confidential, Oct 2012, was Anil's client
A very good eye opening, amazing Life Coaching programme which step by step lets you see your factors binding you in Life and tools to deal with them bringing out your potential.

Dr. Suman, 2012
Anil has been my coach on two occasions. Once when the organisation chose him and the next time I chose him myself due to the success of the first time. Each goal that I defined with Anil has been achieved. He works at the conscious level and also at the subconscious level to create successes for you. His tools are robust and more than that his dedication to your success is incredible. I recently recommended a friend to take Anil's coaching and he has also reported a turnaround in less than a month. Every investment in Anil is worth much more that you can imagine.

Sunita Raut, Currently at People and Culture Head Oriflame India at Oriflame Natural Swedish Cosmetics, September 18, 2012, Sunita was Anil's client
Anil's work has helped me unleash my full potential as an entrepreneur. I have knownAnil for 3 years and found his advice direct and productive. When the opportunity of being coached by him came up I lapped it up with enthusiasm. I have gone through a lot of coaching programs and his coaching was distinct and very effective. As a direct result of his coaching I have found meaning in the most important relationships of my life and work. In hindsight this was the critical piece that had been missing all through, and I seriously doubt that any progress at work would have been possible without it. I thank him for the absolute listening he gave and the gentle hand with which he guided me through out the coaching. His methods include but are not limited to asking powerful questions, the right question can truly be much more powerful than the right answer. Each of my session was unique and full of discovery. Some touched me and moved me beyond what I can put down here. I would whole hardheartedly suggest him and I have full faith that he will be able to find the missing piece for you and your organization. As an entrepreneur the ROI has been simply terrific!

Anant Vats, Co Founder at Techieworks, December 12, 2012, Anant was Anil's client
I am glad that I have Anil in my professional network who is a Life Coach. Not only is he passionate about empowering others, but also is absolutely masterful in asking questions that get to the epic center of the matter. Anil, gives you tools, strategies & insights that allow you to move upwards and onwards in your life! Thanks a Lot Anil for being a wonderful God sent Coach to me. I wish you bring out the best in others too…

Anyuta Dhir, Currently as Head Human Resources at Veolia Water, April 19, 2013, Anyuta was Anil's client
Extremely enthusiastic, professional, patient & brilliant at what he does. Life Coaching can be considered as an art or a form of science. One major area of benefit of working with Anil has been my focusing on what is really important to me and the changes I need to make to reach my optimum. In addition, Anil has helped me not to rush head first into situations/confrontation and to think and plan how issues should best be approached, not only helping me but those I work with!

Pushpendra Thakur, Partner at 91springboard, June 27, 2013, Pushpendra was Anil's client
Coach, Anil Bahl helped me in identifying and getting freedom from my fear of success and fear of being happy. I also came to know the exact reason for my procrastination and other Self Sabotaging behaviour that had kept me stuck. This new awareness allowed me to experience my life fully and implement new strategies that allowed me to take my career to a new level. During his coaching sessions, Anil generated profound introspection for me to look within my life; moreover his passion for coaching is evident in every session that makes him an outstanding coach. I would strongly recommend Anil Bahl to anyone who is stuck in their own self-limiting beliefs, in any area of their life OR if they just want to take their skills to next level. His coaching has come like a blessing to me. Anil has made a definitive, permanent difference in my Life.

Himanshu Dutt Sharma, Senior General Manager Corporate at Star Engineers India Pvt. Ltd., April 27, 2013, Himanshu was Anil's client
Anil is an awesome life coach, he not only helped me to know my hidden potential but also guided to get things done by innovative ways. Anil has abilities to extract answers of even difficult questions from anyone's heart. I highly recommend him to anyone who wants to change his/her life in a friendly way.

Indumitra Bhardwaj, Director at AimFin Consultants Pvt. Ltd., July 22, 2013, Indumitra was Anil's client
If you believe in miracles, trust him. if you don't believe in miracles, call him

Saurabh Sharma, National Head (Sales) at Cinepolis India, September 12, 2012, Saurabh was Anil's client
The Smart Way To Find A Coach

1 Describe Your Goals

2 Get Matched

3 Free Consultations
Find My Ideal Coach Now