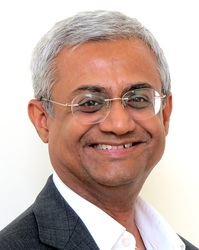 Aniruddha Ganguly

Bangalore, Karnataka
Leadership Coach, Life Coach, Family Coach
Evidence Based Coaching® Certified, Social + Emotional Intelligence® Coach, DiSC® Certified, MBTI® Certified and Strong® Certified Practitioner
I coach senior executive for leadership development or succession, executive undergoing or will undergo major career transition, senior member of a business family dealing with family succession issue
About Me
An ACC coach, my ideal client is of 3 types: senior executive interested in leadership development and leadership succession, undergoing or will undergo major career transition to succeed with a start-up venture or post-retirement journey, or a senior member of a business family, dealing with family succession issues.
Leadership development and succession are key elements of a person's career growth but often these lead to dissatisfaction and frustration. I coach senior executives to develop their leadership qualities, team building and succession planning capabilities.
Founding a start-up or going into retirement makes a person feel uncertain and apprehensive. I coach executives to choose their new vocation or post-retirement plan and make their journey fulfilling.
Business families are complex systems where family succession is often driven by emotion rather than merit, preventing desired outcome. I coach business family members to run their succession plan with compassion as well as objectivity.
My clients have experienced me creating a psychologically safe environment, high ethical standards and warm empathy. This has helped me partner my clients to make choices, take decisions and self-reflect for long-term well-being of themselves and their stakeholders.
Engineer + MBA + Certificate in Coaching from Fielding Graduate University, Santa Barbara, USA I bring 40 yrs+ of professional experience and 62 yrs+ of life experience in my coaching.
Headed human resource management function in a large corporation of over 10,000 employees. Multi-cultural sensitivity, worked with colleagues from Asia, Europe and North America.
Currently on the Board of a start-up platform Turbostart and also on the Board of Parampara Family Business Institute.
Experience of coaching of Indians and Americans complying with ICF coaching competencies + certified in various psychometric assessments. My profile: www.linkedin.com/in/aniruddhaganguly
Reviews
6 reviews (5.0)
Aniruddha possess the most important skill a coach can have. He is a superb listener. We have all had the experience of speaking to someone and getting the strong sense that all they are doing is waiting to talk next. Aniruddha listened intensely to me in each of our sessions before reflecting back to me what he had heard. Active listening is not easy. It not only takes patience, it takes deep concentration and focus. As my coach, he then was able to test for clarification and provide feedback and suggestions that were specific to my situation. Aniruddha is well versed in theory and tools to help his clients move quickly towards their goals. I left each session energized and eager to move forward on the plans I had made for the next week. In Aniruddha you will find a coach who is not only talented, but incredibly kind.

K. Bunnell, Ph.D.
If you want to learn about leadership, you need to talk to Aniruddha. I have had more than 10 coaching sessions with Aniruddha in which we explored ways I can take my leadership skills to the next level. Being certified to perform various assessments, Aniruddha supported me with warmth, empathy and a very deep knowledge about emotional intelligence.

Wolfgang
Aniruddha is a great coach. Using his coaching skills he was able to help me obtain key insights into my situations that proved invaluable. He was way to work with and helped me in my roars to self discovery. He also could bring in additional resources and tools to help me. I recommend him in the highest terms possible.

John McGowan Ph.D.
Great sessions with Aniruddha. I had the opportunity to get into the coaching assignment when I was going through a transition into being an entrepreneur. The session immensely helped me in setting my priorities right and to plan clearly for a great start.

Sindhu
Aniruddha cuts through the maze and haze to bring clarity to the core aspects which matter to an individual for lending a credible direction. He glides effortlessly with you lending comfort without compromising the goals of coaching interactions. I am pleased to have chosen Aniruddha when I needed to.

Akash Middya
Coming at a very opportune time of my career, my coaching with Mr Anirudhha Ganguly has helped me fully prepare for a higher role in my organization. I was not only able to identify the strength and weaknesses but work on them assiduously and measure the change. The subtle ways in which he was able to develop my potential was remarkable. The recognition that lasting change happens when I can bring about the change in my being/feelings has been the biggest takeaway for me.

Avanish Kumar