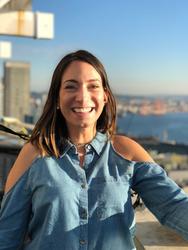 Anita Hisir

Vancouver, British Columbia
Relationship Coach, Spirituality Coach, Life Coach
ECPC
I help women who find themselves in one failed relationship after another, who deep down struggle with confidence & self-esteem. I help you uncover the blocks so that you're ready to find lasting love
About Me
Anita Hisir is a Certified Professional Coach with close to 10 years of experience in personal transformation. She has become a leader in the areas of self-discovery, self-esteem and self-acceptance for her clients. By using her intuitive guidance and gentle nature, she helps bring out what is stirring in both her client's minds and hearts. She has helped them break free from feeling stuck or lost to now leading a life rich in clarity, purpose, and most of all, excitement for the unfolding of their own story.

Having recently gone through her own transition from her 20's to 30's, Anita understands that both challenge and confusion play a significant role in paving the road to a life you'll love. Her work pulls from a spectrum of fields in coaching, psychology, and neuroscience to energy and spiritual science. Together, these fields bridge the gap between mind, body and soul while leading towards life-changing transformation.
Anita's focus is on moving beyond old belief patterns in not feeling good enough, emotional eating, and lack of self-integrity in romantic relationships and relationship with self. She helps her clients gain trust in themselves again and find healthier ways to self-soothe and self-nourish. Anita currently lives in Vancouver, Canada, but you can often find her exploring and living in other parts of the world. She's an active member of Toastmasters International, and creator and writer of the blog The Heart and Soul Expedition.
Reviews
4 reviews (1 verified) (5.0)
Anita is so easy to talk to, she's a wealth of ideas and knowledge and is quite patient and understanding

Selin Jessani
"Working with Anita has opened up a completely new venue in manifestation as far as my life choices. In the beginning, I was hesitant to use a life coach although I knew I had to make some changes to achieve happiness! I was living from a place of fear and that energy was holding me back. Anita gently encouraged me to dive into my passions and trust my instincts. Together we worked through mental barriers until I reached a level of mental clarity that allowed me bravely grasp what I truly wanted. Anita has a wonderful way of nurturing what is already stirring in the minds of her clients, helping them to realize their strengths and potential. Almost a year since our last session, I have moved across the country, changed homes, swapped careers, and made myself a priority."

A.M., California, United States
I was so lucky to find Anita in a time where I was feeling extremely stuck in all aspects of life. Being completely new to life coaching I was challenged to look within and find answers under Anita's awesome support and skilled guidance. Without Anita I wouldn't have acquired a huge overall improvement in positivity, discovered new directions in life, as well as uncovered aspects of my life I didn't know I wanted to improve. I'm so glad I kept at it even when I felt like I didn't have any answers to my dilemmas. Working with Anita has truly been a life changing experience!"

D.M., California, United States
"Coaching with Anita has been a life changing experience for me. Starting out, I felt like I was wandering through life with no real sense of direction, and without clarity on what I truly want. Anita has really helped provide that clarity for me. Not only do I feel a greater sense of structure and purpose, but we've laid out a practical series of steps to achieving the goals we've discovered are most important to me. Working with Anita has ended up being one of the most important decisions I've ever made, and I can't even imagine how different the direction of my life would be if I had never made that first call."

J.M., Entrepreneur, Washington, United States