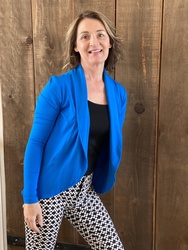 Anita Perrigo

Hawkestone, Ontario
Life Coach, Health and Fitness Coach, Leadership Coach
BS, Certified Mentor Coach, Certified Nutrition Coach, Certified Yoga Teacher, BScPT, BPE
Are you a passion driven woman struggling to keep up with all of life's demands? I help clients find more balance and ease to live a life of vitality at work and home that they deserve
About Me
The Professional Me: I am the heart and the mind behind Vitality Coaching and Consulting. I've spent my entire professional life – as a physical therapist, a fitness instructor, personal trainer, yoga teacher, Health Educator, Clinical Program Manager and Coach - helping people thrive.
For the past few years I've been coaching and training women online - helping them create + sustain vitality at work + home. Vitality practices include aligning your time, energy and priorities with your purpose as well as cultivating consistent wellbeing practices in mindfulness, nutrition, movement, sleep/rest and stress management. These practices help you bring your full + best energy to the people, the projects + the causes that matter most to you at work and at home. My coaching is strengths- and values-based, and is grounded in positive psychology and wellness practices – a framework I have been developing for over a decade.
Besides coaching, I provide tips, tools, resources and courses to support your vitality practices. Please visit my website or subscribe to my newsletter to get a sneak peek.
The Personal Me: I live in Ontario, Canada with my two young adult sons, my husband of 25 years, my two Labrador retrievers and two cats.
Besides a love for nature, I have a passion for health and wellness and sharing that passion with others. I believe I have a gift of connecting with people to help them find more peace. And when we have more peace, it creates more space and opportunity to take better care of ourselves. And when we take better care of ourselves, we have more vitality to better connect with and help others.
Reviews
2 reviews (5.0)
Anita is one of the most patient and peaceful women that I know. Her gentle techniques helped to draw out my personal goals. Sometimes I wasnt even sure what the session would bring, and by the end there was so much clarity. As a busy executive of a large non-profit homeless shelter and a mum of three, I didnt think I had the time for life coaching. And yet, I am so thankful I made the time with Anita! I think I needed the coaching even more because of my busy life. I look forward to future journeys with Anita, having her guide me through lifes struggles, joys and everything in between. :)

Linda Goodall
I have been coaching with Anita for the last 9 months and it has significantly impacted my life and business is a positive way. My business is exactly where I need it to be, and my health and fitness has improved in ways I never thought would happen. I have a whole new vision for my life and know that coaching with Anita helped me be my best self! She truly cares about her clients and their wellbeing.

Heather Siskind