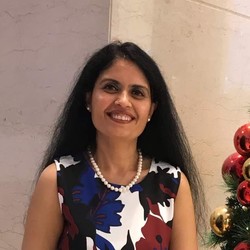 Anitha Bakhtani

Kuala Lumpur, Kuala Lumpur
Executive Coach, Leadership Coach, Career Coach
Credentialled Leader in Global Talent Management, Certified EQ practitioner, Certified Practitioner in NLP & psychometric assessment tools
Are you an an ambitious high performer desiring greater career success or growth ? I can coach you to achieve your career aspirations through a result-oriented program,enriched with my HR expertise.
About Me
I specialize in coaching high performers and leaders who are either feeling stuck or aspiring for higher roles - to help them take charge of their success & growth in alignment to their aspirations.
Are you an ambitious professional who is feeling stuck or unable to see your growth opportunities ?
Are you a leader experiencing challenges in creating the business impact you believe you are truly capable of ?
Are you a leader or a professional who is facing challenges related to people management / interpersonal effectiveness ?
I can coach you to reinvent your career and realize your best potential at work for success & career fulfillment.
My clients always share with me that in addition to becoming highly effective in their careers / roles, they find themselves transforming personally and achieving fulfillment in different aspects of their lives as an outcome of my coaching program.
I'm an ICF credentialed coach with 6+ years of experience in coaching, a Fellow of the Asian HR Board with over 26 years in various industries, specializing in the HR profession and hold 2 global credentials in HR & Talent Management.
Having experienced a fulfilling career spanning across multiple cultures and geographies first hand, I may have either had the exact same experience as you, or worked with other professionals / leaders with similar experiences, at during different phases of my career life.
I have successfully delivered several training programs, mentored aspiring professionals and coached high performers individually & in groups for enhanced professional effectiveness
I also bring with me strong expertise and understanding of Neuroscience based methodologies, practitioner certified in NLP, psychometric assessments (Thomas International DiSC profiling system and Successfinder from Optimum Talent), Emotional Intelligence (EQi-2.0) from MHS Inc, Career Assessment Interviewing Techniques by ROWE Partnership, LLC Canada and Business consulting from DLI Canada.
Reviews
6 reviews (2 verified) (4.83)
I can only thank God for the wisdom and career guidance which I received from 'aunty' Anitha, like I always call her. I'm even received recognition at my workplace under her coaching and outline for my career progression goals. I'm still looking forward to learn a whole lot more from this amazing HR guru. Thank you so much for all the support, strategic, leadership development and encouragement always! You really delivered so much impact in my life, and we are still going to work together to get to our final goal Anitha!

Anthea
Anitha provided me with only two coaching sessions as i only had a short time before my interview. For such a short amount of contact time the level of support provided was excellent. She asked great questions that got me to open up, and focused in on specific areas to highlight. Anitha also has a great temperament as a coach, which combines a very caring and supportive side to builds confidence, whilst a very focused side to channel performance. I highly recommend Anitha as a coach.

Oliver
A great coach with in depth understanding of personal career growth and tackling development barriers/issues. In addition, she helps me to identify self weaknesses and illustrate the correct way in terms of overcome it.

Ken Lee
I have had a few sessions with Anitha and I must say she is an excellent coach, who actively listens to your situation, has an open mind and asks great questions, which I take back and reflect after the session. She is comfortable to change the dynamics of each session as per my wish. Even outside the 1-2-1 sessions, she was willing to help me out over WhatsApp and emails. I would highly recommend Anitha as a coach.

Lubna
This is my first time engaged with coach and I not so sure is coaching is the solution for me with my career issue. I worry coaching may increase my pressure as is require a lot of thinking. Thanks to Anitha's coaching, she patiently listen to my situation and guide me to a clear picture with enlighten mode. I able define the root cause of issue and start look for solution.

Voon L
Amazing - truly helped me work through my issues and helped me have a breakthrough.

Mahima B