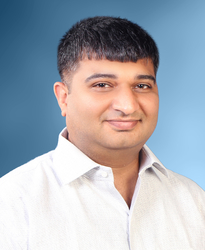 Ankur Nagar

Navi Mumbai, Maharashtra
Relationship Coach, Career Coach, Life Coach
MBA, Certified Career Development Facilitator, Diploma in Life Coaching
Career and relationships are two important factors where todays Millennial and GenZ struggle (aged below 38 years). Are you one of them?. Share your struggle and let me partner to make a new path
About Me
The two major challenges that Gen Z and Millennials face are – Relationships and Career.
Are you aged below 38 and are often grappling with one or more of the below questions and likewise with respect to Relationships and Career?
Have I chosen a right partner? Why are my parents always after me? Is my child going in the right direction? What career should I choose? I am confused. Am I the right fit in this career choice? Relationships vs Career
It doesn't need to continue that way. We often confide in our thoughts and the way we perceive things around us with a myopic view. Sometimes we don't know what are core values and strengths are. Sometimes we face difficulty in prioritizing things attached to our life. Most of the things can be sorted.
'Trust and Open-up' and I can partner with you on your journey to unlock and unshackle these challenges for a better and evolved YOU.
This is done through a systematic approach by understanding the challenges, understanding SELF, Plan for the future to draw a PATH.
Post this I am confident that like my other clients, you will also be able to take decisions on your relationships, would be clear with your career and more importantly would be an evolved and peaceful YOU.
About me
I am primarily a Consumer Insights person with over 15 years of experience, so I meet different people and try to listen to them and understand them. I also give guest lectures in colleges.
Majority of whom I meet (professionally or in college) are either Millennials or GenZ, aged between 15 to 35 years. Back of the mind, the main issues that they were facing were either related to Relationships (with parents / kids / partners) or Career.
I thought why not help them evolve. Thus, started my journey of Life Coaching and specifically concentrating on Relations and Career for these people aged below 35 years.
I am a Certified Life Coach and Certified Career Development Facilitator and in a continuous journey of learning and helping myself and my clients
Reviews
I recommend Ankur as the most sort after life and career coach. He made me look at the perspectives and understand the scopes. He helped my analyse my capabilities and choose the right career options and how I could persue two options at the same time. He simplified all my confusions and paved a path that was possible to achieve success in.

Ruchi Jha