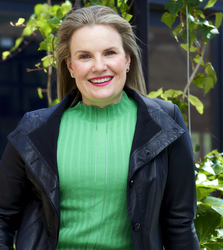 Ann Pocock

Melbourne, Victoria
Leadership Coach, Executive Coach, Business Coach
Institute of Executive Coaching and Leadership Level 2 (IECL),
Coaching for Emerging, Exploring, Expanding and Elevating Leaders. For those wanting to step-up or deciding to move up or out.
About Me
Coaching to unleash your potential. Create change with purpose.
My vision is to help you dispel your blockers, define your purpose and drive your transition to fulfilment by making an impact on the way you work and live.
Perhaps you find yourself wondering when the right time is to make a change, or even how to make a change. Or you keep saying to yourself you will, but you feel stuck when it comes to taking action. Either way, you know it's time to do something differently.
If you're here, you're curious about how to take decisive action that creates confidence and strength to propel you forward. And, you're curious about finding a coach who can get you there.
It's hard to take the first step out of the comfort of where you are, into the discomfort of evolving to where you want to be. But the alternative of staying where you are is even harder. I know, I've been there too!
Whether you're looking to define what you want to do 'when you grow up', become an inspiring team leader with an authentic executive presence, gain a promotion that involves greater responsibility or find more balance in your life, I can help.
No matter your career stage, together we'll clarify your strengths and values, refine your leadership skills of self and others, and bolster your confidence.
Coaching is a unique and collaborative partnership between the coach and client. I'm your sounding board and support who helps transform your mindset, encourages you to stretch and grow and holds you accountable.
Using a variety of tools from strengths-based coaching, Positive Psychology and Coaching Psychology, we'll evaluate your inner motivations, values and behaviours so you can unleash your potential to take decisive action.
Together, you and I will walk the challenging path of change, side-by-side, putting you directly on your road to unleash your potential.
Reviews
Ann doesn't have any reviews yet.