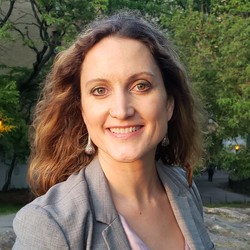 Dr Anna Stratis

Toronto, Ontario
Career Coach, Relationship Coach, Life Coach
MD, MSc, PCC, ELI-MP
I coach clients who are at a transition point in their career and/or relationship. I help my clients build a fulfilling next phase based on values, purpose, passion and authenticity
About Me
- Do you wish your Mondays felt as good as your Fridays?
- Are you trapped by people-pleasing?
- Are you stuck on a hard decision and sick of running the pros/cons?
- Do you desire to rediscover your 18- year-old self who was fearless and limitless?
- Are you ready to exit a pattern of relationship that's no longer serving you?
- Do you wish to break the conflict cycle, create healthy communication and nurture compassion for each other?
I am a physician and ICF-credentialed coach specializing in relationship and purpose-driven career transformation. My clients reconnect with their intuition and confidence, tune into their values and purpose, gain clarity on critical decisions and create action steps toward fulfillment.
I work with individuals and couples who have reached a point of transition, the end of a well-worn, unfulfilling road. I work with those in their 20's-40's who have gotten as far as they can in their career with the standard strategies and are exhausted by having to work overtime to satiate their inner critic. I work with physicians who entered medicine with a passion to serve but have become disillusioned and burned out. I work with people who have trained and worked hard, only to be dissatisified in their job. To go beyond ordinary, they need to unlock a whole new set of tools within to step into a career with purpose, balance, growth and the potential to lead and inspire.
I help my clients: Repair and create wellbeing and harmony in relationship and intimacy. Discover clarity and confidence in voicing their needs and building effective communication. Exit tiresome conflict cycles and create harmony. Take back power in the face of mismatched libido and sexual health issues.
You will have a safe space for your deep exploration. You will be challenged. You will shed fear and be encouraged to dream big. You will have me to celebrate your successes as you build your relationship and career in ways that fill your cup and serve your life purpose
Reviews
3 reviews (5.0)
Dr. Anna Stratis has been a blessing in our lives. She is an amazing life coach. Her sessions have transformed our marriage, our business, and family relationships. She is perceptive, empathetic, down to earth, clear, enthusiastic, wise, and practical. Her interventions are clear and to the point. She has her finger on the pulse and her clinical observations always hit the nail on the head. Its obvious that she loves what she does. Every session with her is useful, insightful, and life-changing. She manages to create significant transformations in a single appointment. I would highly recommend her services to anyone looking for a life coach.

Valencia Virginia
Anna is intuitive, incisive and a great listener! I have always felt when I begin my session with her, I am muddle headed. She really helps me make sense of my thoughts and helps me string them together in the most meaningful fashion, so by the time my session is over I have clarity on what my focus should be in order to achieve what I want. I always come out of a session with a game plan and lots and lots of positive energy! I couldn't have asked for anyone better to help me bring focus into my life!

Anupama Bhat
Anna is an intelligent, compassionate, and innovative coach who supports her clients by helping them create self-awareness which she helps transform into actionable steps. She creates a safe space for her clients to explore possibilities and establish actionable steps that are grounded in their personal and professional values and experiences. She does not come to a session with predetermined solutions. Instead, she encourages introspection and reflection so that her clients create their own unique journey.

Lindamarie Werntz Coatman