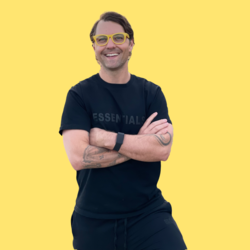 Anthony Thompson

Scottsdale, Arizona
Performance Coach, Christian Coach, Executive Coach
University of Penn Positive Psychology
I guide Christian business owners who neglected spiritual disciplines they once had, resulting in fear and lack of clarity, to get aligned with God removing all fear to do what they were born to do.
About Me
Hello friend.
My name is Coach Anthony Thompson and I'm a Spiritual Growth Coach.
What does that mean?
Coaching is all about growth. I know you want to grow, and that's why you are here.
I help guide growth in the areas of spirit, soul, mind, and body. What really separates me from most is my work from the inside out. I start off with spiritual growth.
There is an old scripture that says, "apart from the vine (the source, God) you are nothing." When you get connected to the source, you have everything God has.
Love, joy, peace, patience, and abundance are all yours because it's from God.
What's your background?
I was born to a teenage mother, and an unknown father. My mother later died of a drug overdose when I was 7. While these are tragic events, I've realized they happened for me. They helped shape and guide who I am today.
Over the past couple of decades, I've been building Fortune 500 companies in the celebrity PR world which led to helping create millions of impressions in the non-profit sector.
In the middle of all that, I managed to go to school in Positive Psychology and get certified as an executive and performance coach. This was when everything transformed for me, and I believe it's why I am here typing this to you.
What can I expect?
When coaching, I like to get into a rhythm of time and accountability. One of the things I do differently is to challenge clients and work together on accountability.
You can expect weekly coaching calls, along with daily check-ins regarding the goals and plans you are building.
Some of the areas we dig into further are the following:
Awareness
Accountability
Audit
Balanced reflection
Building habits
Big goals
Consistency
Competent Mastery
Challenge
Feel free to reach out, or find me on Instagram or Linkedin
Reviews
Anthony doesn't have any reviews yet.