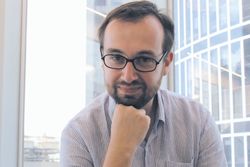 Business Coach, Entrepreneurship Coach
IDEO Advanced accreditation in Design Thinking, business model development, storytelling; Sorbonne Business School Alumni
Being an entrepreneur can be a lonely process, so I challenge entrepreneurs who need to rethink their model, structure their business, build a vision, set Impactful goals and design action plans.
About Me
Being an entrepreneur is an exciting job which gives your life hell of a dimension, but it is also a lonely process that can make things complicated.
Think about it! Who do you test your ideas with? Who challenges you to think deeper about your business model, your goals, their implementation, and your next steps? Who helps you make sure that your business strategy is Impactful? Who has the ability and honesty to tell you that something you are doing really makes no sense? Look around you...
After my Ph.D. in 2012, I became a consultant and coordinated teams in 50+ countries, then built a (failed) startup in Paris and learned. I arrived in Hong Kong in 2015 to focus on Fintechs (the entrepreneurial side) and was asked to build an Impact, business and leadership strategy for an academic institution. 1.2 million (us) in funding later, I teach at uni, speak and write about entrepreneurship, and co-founded Impactified to help entrepreneurs move on and get their business to the next step. And I do that by following, challenging and supporting them week after week.
Like you, my clients have varied profiles, from retail to designers, consultants or family offices. Some run 15+ million businesses with a 45+ people team and have a vision to follow, some are much smaller but want to get there in a few years. Some want to work less / earn more, others spend too much time on fire control. Some want to optimize organization, others need to formulate a value proposition, rethink their positioning, build a stronger identity and shift their business model.
Overall? All my clients want to be challenged, because whilst running a business is fun, making decisions is extremely difficult when *you* are the only one in charge. On top of our 1:1 discussions, I give them access to unique & proprietary tools: Impact vision builder, strategic planner, financial & commercial strategy modeling, strategic positioning modeling...we have you covered.
And you, what difference do you make?
Reviews
3 reviews (5.0)
I have had the pleasure of working with Antoine over the past several months as our boutique creative design agency has rapidly undergone significant changes in our trajectory. During this critical time in the 25+ year history of our organisation, Antoine has provided guidance, clarity and tools that have made a major impact on how we run our business and how we can embrace the radical shift to scale up and expand our footprint across the Asia Pacific and IndoChina region. The tools, time and insights we've gleaned from working with Antoine have proved invaluable and resulted in a serious overhaul of our underlying business practices which is resulted in an organisation that is poised to scale and embrace new horizons. We strongly recommend Antoine for his ability to dig deep into organisational culture which results in a truly high-impact opportunity for streamlined and sustainable business practices. Thanks to Antoine and the tools he's built and shared, VADI is now running better than ever.

Adam V. Arzate
I've really enjoy working with Antonie. Being an entrepreneur can be lonely work sometimes and having someone to bounce ideas off is very important, especially when they have the experience of working with so many different businesses. The tools and systems that Antonie and the team at Impactified have provided me over the past several have been invaluable, I will definitely implement these for years to come.

Alan Scanlan
Thanks to Antoine and his team Philip and other members in his team support. It help a lots for us from nothing to something now. we have our website , our team, our brand dna and our wechat public and our service range with manifesto of JIA. It's so inspiring for us and so graceful to have their inspiring and help. So that we can move forward and so many ideas and execution plans to make our ideas to action plan. without them , im not sure that i can be who and where we stand for this moments . Thanks Team Antoine and his team !!!

Rb HUI