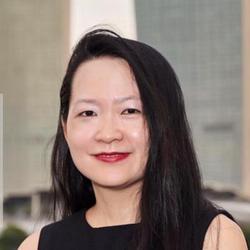 Performance Coach, Life Coach, Leadership Coach
Certified Performance Coach (ACSTH), Neuro-Linguistics Programming Practitioner, Clean Language Facilitator & Positive Intelligence Coach
I work with high-performance leaders who are ready to step out of their comfort zone to embrace their vulnerability as their strength to connect and to lead.
About Me
Feeling Overwhelmed? Unsure?
Like many talented, high-achieving professional women, you are determined and committed to your career but also want to ensure you maintain a balance with all other aspects of your life -including family and friends, your own emotional and spiritual wellbeing especially your own authenticity.
I am an insightful coach, ex-banking professional of over 2 decades, Investment and Private Wealth, and across various functions from line to project, from running a team to building a team. Diversity Advocate, most of all, a mother of 2 amazing high functioning children, where one is still walking this planet earth with me.
A strong Advocate in the Diversity & Inclusive Arena with over 7 years of experience as the executive committee with Financial Women Association of Singapore (FWA) holding numerous positions including corporate partnership and mentoring chairs, helping to bring the organisation to a new height under my leadership.
Armed with a learning spirit and the passion to serve. I embraced coaching as the additional impact to empower others to find their whole self, their full potential, and the courage to embrace vulnerability.
For life starts when we know who we truly are, our values – the fundamentals of what holds us up, the why we are doing what we do and what we are not doing. It is only when we recognise our whole self, that we have the power to step into the true, full leadership.
It Is therefore my passion to support leaders to uncover their authenticity, full potential through re-building their mindset using positive intelligence framework and aligning to their core value.
Ultimately, I want people to make a difference in their own life, achieve their wildest dreams and their mission.
Reviews
3 reviews (4.67)
my experience with Aries was mind blowing , her coaching technique brought me into a place of self realisations ,clarity, with so much confidence and motivations. my motivation to go about my goal increased, and I knew exactly what to do, how to do it, when to get it done, am now enjoying my personal performance coaching course through the help of Aries. Are you struggling with your career? don't worry have got good news for you. do you want to know the goodness?. contact Aries yeo

mercy fidelis
Working with Aries may not be an easy journey, but if there is total sincerity on the client's part then Aries will be able to pinpoint the direction needed for a powerful experience. There is no getting stuck on stories or particular issues but of creating an awareness of the whole person so that you begin to see clearly who you are. Aries makes sure the preparation work is done and deals with anything that comes up in a gentle and understanding way. She makes you see things about yourself that you were not aware of very quickly and as such provides the best possible chance of success in future plans in any area of life you wish. The coaching has helped me discover my core values which I now use as a benchmark for making decisions and seeing where situations and connections can be improved. This has led me to a much greater understanding to how I 'tick' and what is important to me. Prior to the coaching I was living my life according to different values and wondering why I was not so happy. Through working with Aries many blockages have come up that I have now let go of. This has had a knock on effect on dealing with family issues, moving home, starting new relationships and improving my confidence in a year where the world has come to a standstill with the pandemic. Thank you so much Aries.

Loretta
I have learned that with the right support and coaching I can understand myself better and that this understanding is so important to move forward in the right way in life. I have never had a coach before so was concerned it may have resembled counselling which I was not interested in. The results I have achieved since we started working together are finding my values, conquering fear by letting go and recognising my self worth as the main results. What I loved best about working with Aries was the amount of different knowledge she had and how she knew exactly which technique to use at what time. Also her understanding and honesty. The coaching sessions have given me the strength to push forward in life regardless of what is going on around me. I would definitely recommend her services because I now believe everyone would benefit from coaching even if they think they would not and especially those who would benefit from a change of mindset.

Unknown