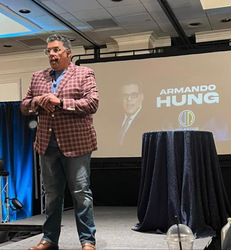 Armando Hung

St. Cloud, Florida
Career Coach, Leadership Coach, Life Coach
BA, CPC, ELI-MP, DE&I Certification,.ID&E
I coach adult men and women who are at a crossroad in their lives. I focus on assisting my clients in erasing all doubt that is holding them back; regarding career or life situations
Details

St. Cloud, Florida 34771

973-517-3087

Send Message
Visit Website
Hourly Rate: $70 to $100 US Dollars
Gender: Male
About Me
My name is Armando J. Hung, and I am a Transformational Coach. I work with my clients in mastering Work/Life Balance. Growing up, I had difficulty figuring out what I wanted to make of my future. I struggled with the pressure of other people's visions of success rather than taking the time to stop ( and celebrate) what I had already accomplished in my life. Did I want to pursue a career in education, social science, or study in medicine? What would my family think if I chose a different career than what they expected me to pursue ? The constant pressure to be successful continuously brought up those questions in my head as I approached graduation from college. This kind of pressure can be very overwhelming without the right support system.
I went through many changes in my career after I left college. I graduated with a Bachelor of Science in Education and a minor in Marketing. My degree spring boarded me early in working for a major airline company in their operations department and also working as an educator for the state of New Jersey. Although I had a passion for molding young minds, I desired to keep on challenging myself. As a result, I found myself working in sales and marketing with a Fortune 100 consumer goods company. Through this opportunity, I've held various positions in my field over the last 27 years. I'm actively involved in employee resource groups within my business which keeps me up to date with current trends. I have also mentored interns all the way through management positions.
I continue to change every day of my life. My love for helping others led me to become a Transformational Coach. The ability to navigate and empower anyone to pursue a fulfilling life...is what I live for. I believe that " change is good". What fulfills you today may change as you grow and that's completely normal. Life is not a drill...but an adventure. Although it can be confusing and scary, you are not alone.
Reviews
3 reviews (3 verified) (5.0)
I highly recommend Armando. Thanks to his guidance, I achieved my goal while I was still working with him.

Pedro Monjo
Armando has been coaching me through my journey of discovering who I'm meant to be and conquering the obstacles that try to hold me back. He's been challenging me to see my setbacks in a new way and guiding me in finding the confidence to overcome them. I'm excited to continue on this journey! If you're ready to start your stride towards your future, take your first step and reach out to him.

Robert
Very supportive, open to any changes I wanted to make in my vision/goals, and made me comfortable in sharing things I normally don't care to discuss.

Matthew