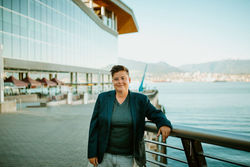 Ash Enns

Vancouver, British Columbia
Business Coach, Life Coach, Entrepreneurship Coach
Life, Business, Career and Entrepreneur Coaching for those looking to design their ideal life.
About Me
Ash Enns is a Life Coach and Entrepreneur Coach
Ash graduated with a Bachelor of Commerce degree from the University of Victoria in 2007. After graduating, she worked in a variety of roles in supply chain and operations. She then transitioned to project management and spent the next 5 years developing her career as a Project Manager in the Engineering and Construction industry.
Ash wanted to create her own business, to see the difference she could make in the world and to change the lives of others while bringing her best self to work. Ash had an intuitive hit ("aha moment") while on a trip in Hawaii that she should investigate life coaching.
Ash has immersed herself in her own self discovery and is clear on her values, vision for her life, talents, gifts and passions. She researched a lot about being a Life Coach and enrolled in iPEC Coaching which is a world class education provider for professional coaching where she mastered her skills and became a Certified Professional Coach.
Ash is dedicated to her mission to inspire individuals to follow their passions and design their ideal life to maximize their wellbeing and positive impact on the world.
Reviews