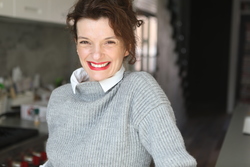 Aurelie Harp

New York, New York
Life Coach, Leadership Coach, Relationship Coach
AAC Certified by International Coach Federation, Certified in Social Therapeutics from East Side institute
Do you want to transform your life, career, and relationships with who you are? Let's connect and create the relational environment you need to grow & become the leader of your life.
About Me
I'm a Cultural & Executive Coach based in New York, USA, with 20+ years of experience in cultural coaching, relational & change management & applied improvisation. I help individuals & organizations create the environment they need to grow leadership & inclusion in their lives and with others.
In my practice, I combine coaching, social therapeutics & applied improvisation to help you create the cultural and philosophical environment you need to grow your life with others.
I am a certified Professional Life Coach from Certified Life Coach Institute & a certified Social Therapeutics coach from the East Side Institute. I interviewed & coached hundreds of people (individuals & organizations). I love coaching individuals & groups, specifically women, LGBTQA+ and intergenerational groups. I specifically offer group coaching for identity and family development.
My personal & professional journey is defined by play & improvisation. I was born in Lyon, France. At 17, I moved to Paris where I combined the life of a student and an actor. I then travelled to South-East Asia to teach French and acting and came back to graduate and finish a master's in communication, Research & Marketing at Science-Po Paris. I kept traveling and worked for almost a decade in Corporate Advertising in Paris, London and New York…
When I arrived in NYC, I got excited by its diversity, creativity and unlimited possibilities. I also got struck by how men & women, binary & nonbinary, white people & people of color, the rich & the poor are organized to co-exist in separate environments. From that grew a desire: explore with people our relationship with who we are and with others and how it can empower or limit our existence and development as humans. I relate to people as creators and builders of their lives. In my sessions, we create together new stages for you to grow and build the life you want with others in a holistic way. If you are ready to become the leader of your life, let's connect!
Reviews
4 reviews (5.0)
Aurélie is exactly what I had hoped for in a coaching relationship: warm and empathic, but also creative and dynamic, and FUN to work with! She is a great listener at all levels, and is able to support but also challenge when needed. An authentic and inspiring human who helped me move on my journey.

Jessica H
I highly recommend Aurelie / Womanity Play Coaching if you are facing any challenge or hurdle in life and are unsure of how to approach it. Aurelie listens deeply and is a skillful, intuitive, and compassionate guide. She helped me consider all angles of my approaching negotiation - to take my time and not panic, and to proceed from a place of confidence rather than fear. I am deeply grateful for her guidance.

A. Stumpf
Aurelie helped me through a life change from being a full-time mom to getting back to work and starting a new business. She gave me the tools to navigate the transition, the words to believe in myself and trust my creative side and, the support to overcome the struggles. Our work together allowed me to grow beyond being just a mother and made my life more balanced and complete. I am always excited to go back to her and consult when new challenges arise in my life.

Gerry
Efficient human and very helpful coach

Fournier