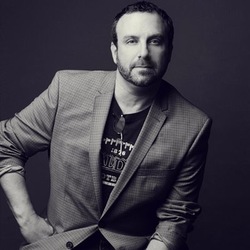 Avy-Loren Cohen

Toronto, Ontario
Business Coach, Career Coach, ADD ADHD Coach
Hundreds of satisfied clients around the globe
Professionals seeking to improve their career, abilities, and business by pushing yourself to become your best and overcome hurdles with a seasoned pro.
About Me
Avy-Loren is a Strategic Business Consultant, Executive Coach, and Mentor serving clients from around the globe of various industries and stages of business with expertise in startups, rapid growth, and corporate restructuring.
His clients seek personal yet effective and measurable solutions that yield results quickly. His ability to help his clients achieve their goals and objectives in a short time frame comes from over 20 years of experience working in the business world in numerous roles as well as consulting and coaching individuals and corporations of great stature. His unique ability to blend corporate working knowledge and experience, seasoned strategic business consulting, and executive coaching and mentoring creates a major competitive advantage over most coaches and consultants.
Avy-Loren earned the nickname "CEO Whisperer" by his clients due to his unique ability to tap into their minds and help them achieve their desired objectives both professionally and personally.
As a trusted advisor to hundreds of CEOs around the globe, CEOs and leaders seek out his unique services that are customized for the specific needs of the individual, not the typical consultant or business coach "cookie-cutter" model.
Effectively, when you use his services you receive focused personal attention and he will always over-deliver on your expectations - it is just how he works.
I offer you to book a free consultation on my website so you can have the opportunity to get to know each other without financial risk, as well as getting to know your goals and objectives so I may evaluate your situation and confirm that I am capable to meeting or exceeding your expectations.
Reviews
15 reviews (5.0)
Avy was a pleasure to work with as he possesses a great combination of business acumen and personal relationships. I found Avy extremely knowledgeable in the business and products he represented as well as their applications. Avy has had a zealous approach to marketing and I've enjoyed his thought processes in overcoming obstacles. I would look forward to an opportunity to work on a project with Avy again in the future.

Stephen Kampstra  -  Canada, Vice President Canada, Broad-line Distribution at Gordon Food Service
Avy worked with me in the planning stages of my start-up business and has given input to the business on a regular basis thereafter. He is a very knowledgeable consultant with strong business acumen, as well as the ability to plan for future market trends. His advice and input have been invaluable, time-saving but moreover extremely practical.  Some consultants cannot communicate effectively to explain strategy in a clear and coherent manner. Avy excels in this area, providing creative ways to grow your business. He is a powerhouse of experience and knowledge, which I am so pleased I am able to have in my camp!!

Elle Smith  -  UK, Owner at Inspired by Elle
While at Enviro-Solutions, I worked with Avy to introduce a pioneering product/category that he offered. It did assist us with our objectives in developing incremental sales and market share. His insight in developing strategies for sales, marketing and distribution were evident. He was a pleasure to work with, a professional. His passion and focus exceeded my expectations and I would work with him again in the future if the opportunity presented itself. Cheers,

Mike Sawchuk  -  Canada, Chief Business Development Officer at Avmor 
Avy is incredibly well versed in the ideology and industry practices needed by any small business or similar venture to grow and expand, the discussions we have had and the work I have seen as a result more than exemplifies his personality and ability to do just that. He brings the experience, dedication, and professionalism that any growing business would want to be successful in their respective industry.

Jacob Taylor  -  USA, Communication & Research Coordinator at Colorado Oil & Gas Association
Avy Loren-Cohen has an extraordinary talent.  One of the stars that can not be ignored. He had excellent communication skills and gave advice at the highest levels. Brilliant and inspiring! Thank You, Avy.

Dror Kolodkin-Gal   -  Israel, CEO & Co-Founder at Proofi
Avy is a true gentleman. He is not only very personable but incredibly intelligent and experienced in many aspects of the business. Any company or individual would be blessed to collaborate with Avy since he is one of those rare modern men who can combine profitability with being socially conscious in business.

Patricia Russell  -  Canada, CEO at Casa Duro
Avy was my coach consultant and has mentored me on business and marketing strategies in the workplace and on positive career and business goals. He has tremendous entrepreneurial business experience and goes above and beyond to advise and guide which helped develop my skills, learning new ideas and tactics. Avy is without a doubt one of the most experienced and knowledgeable business coaches in his industry. Highly recommended!

Jasmin Orlando  -  USA, Creative Director at Infinite Allure Group
Avy is a person who is very founder-friendly and one who backs entrepreneurs to achieve their big vision. He comes from the perspective of looking into the business and then strategizing deeply through selective methodology. Inspiring and empowering! A CEO Whisperer. I would recommend him to anyone, especially founders.

Amir Hakim Teo  - Singapore, CEO & Founder at HROX
Avy is an excellent strategist, business consultant, and executive coach. Avy is one of the best in bringing solutions to ambiguous situations through a selective methodology. He is also a strong executive coach, inspiring and empowering me while providing feedback to maximize my performance. I've worked with him to bring changes to my weakness; I thoroughly enjoyed, and benefited, from working with him and would recommend him to anyone.

Lan Quang, MBA  - USA, Director of Growth at NCT Group USA
I want to extend my deepest gratitude toward Mr. Avy Cohen. I worked with Avy on developing a strategic business plan. I am very pleased with our engagement. I am only able to sum it up into three words. He is inspiring, cultivating, and pleasant. If you need someone in your corner to be your coach, advisor or partner, he's the guy. I can recommend him because he's my guy. I'm certain through your endeavors with Avy you'll find him extremely easy to work with.

Bill Dew  - USA, CEO & Founder at Swepps & Associates
I connected with Avy several years ago when I was looking for a consultant. Avy is a strategic thinker, very insightful, manager and social networker who puts the quality of relationships over quantity. This varied background coupled with innate leadership qualities sets him apart from 99% of my connections. I value his professional and personal advice on a number of topics. His knowledge is vast and thorough. I would recommend Avy to anybody seeking management consulting and/or turnaround advice. (No relation. This is an authentic recommendation :)

Joe cohen, Doctor of law (j.d.)   - USA, Business Strategist at Brand Launcher
Consulting with Mr. Cohen was an amazing experience, to say the least, I would encourage anyone seeking business consulting to contact home you won't be disappointed.

Derrick Soto - USA, CEO & Founder at Get it Done & Make it Happen Consulting
Avy's coaching has been brilliant. He helped me to open my eyes in new areas of engineering and management. He is an excellent communicator of ideas, able to identify his client's needs and always giving an extra mile. I am so thankful for his help!

Kelly Cristina Briceño, Phd - Denmark, Materials Engineer for Vestas
Avy is one of the most knowledgeable and hands-on Business Strategists that I have come across. As a client, one can be sure to receive advice relevant to the industry and specific to the stage of business. One is not just a number.

Josephine Faal - UK, CEO & Co-Founder Smart & Savvy Women Ltd
Avy is a thought leader in the art of business. Innovative, creative, and driven, he is able to identify opportunity and execute at a world-class level. Credentials speak for themselves but his passion and drive places him at the top of his class.

Kristoffer Lyman, MBA - USA, Chief Marketing Officer at Ally Surveillance
The Smart Way To Find A Coach

1 Describe Your Goals

2 Get Matched

3 Free Consultations
Find My Ideal Coach Now