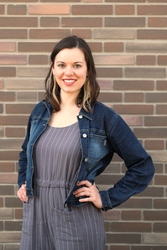 Becky Makous

South Holland
Relationship Coach
BA, Somatica Institute Training
Looking to create a mutually fulfilling sex life? Wanting to deepen your connection to your partner? I work with motivated individuals and couples to create a more secure and authentic connection
About Me
My goal is to help you feel seen and emotionally held in every session. I work to teach skills to help you connect to your body, express your emotions, hold boundaries for yourself, nurture your inner child, and learn skills around intimacy and relationships, while celebrating your authentic self! I use a results-driven and experiential method, and you'll have an opportunity to practice relationship skills in the moment, in a safe container.
I use an empathetic and attuned approach to model secure attachment and reduce internalized shame. I can help you find your core desire, nurture your inner child, work with boundaries, learn tools in your relationship, and much more. I want to help you build a more authentic connection to yourself and create deeper and more nourishing connections around you. Every coaching journey is customized, and we will co-create a 12 session plan to work towards your specific goals.
I've worked in mental health since 2013, but after doing a sex and relationship coaching training with the Somatica Institute in 2020, I realized this is my calling. I am currently in counseling master's program at Webster University in Leiden, and I am planning to become a licensed professional counselor.
I offer a free Discovery Session :)
Reviews
4 reviews (5.0)
The coaching calls with Becky were some of the most helpful and productive for my growth. The homework, exercises, and role play helped a lot. She helped me understand things that didn't make sense to me as much, and how to tune into those in a way that compliments who I already am. Stepping into my power was something I previously didn't even understand was a major growth for me.

Dave
I learned to put myself first. I realized what I was asking for in a partner I was neglecting with myself. Before I can move forward in redefining my relationship and relationship with others, I needed to find me again.

Tyanna
Becky creates a sacred space in her sessions. She honors the relationship between us and brings a feeling of gratitude and openness that creates a beautiful feeling of safety and vulnerability.

Bud
After many discovery calls with different therapists, counselors, and coaches, my (former) partner and I found our match with Becky! From the very beginning her methodology with "the work starts now" was transformative. She met us where we were at from session to session and was able to pivot depending on our current emotional state and our needs. Becky, through her Somatic Therapy practice, honed in on my my long term traumas and was able to help me bring up past emotions and how to handle them in a rational and healthy way. I am now more equipped to handle and process emotions instead of pushing them aside. I experienced growth in my partnership, which sometimes means letting go. I was able to be an advocate for myself and start my healing journey. Each of the 12 sessions with Becky, was unique and intentional, whether we exercised as a partnership or individuals. She gave great recommendations about doing the work outside of her sessions as well as recommended a book that will continue to teach life lessons even after our time together. Once my partner and I decided not to continue in a romantic relationship, Becky was there to guide us in two conscious de-coupling ceremonies. This was healing in itself. We wrote nice notes for the future and attributes we will not move forward with, lit candles, shared, celebrated, and said goodbye. This stands out as an amazing moment that I will not easily forget. Becky is empathetic, vulnerable, present, validating, and truly connects with her clients. I recommend her to my closest family and friends for whatever goals they are trying to achieve or difficulty to work through. I look forward to continuing my healing journey with the tools she has equipped me with. Thank you!

Anonymous