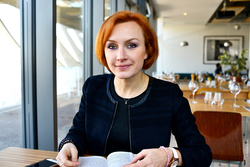 Benedicte Flouriot

Montreal, Quebec
Career Coach, Leadership Coach
MBA, Master's in Career Consulting, ICF certified (ACC), Certified Professional Coactive Coach (CPCC) | Certified Strong Practitioner
Are you an emerging leader or mid-career professional seeking a meaningful career? Do you feel stuck and indecisive? Let me help you make choices to achieve self-fulfillment through your work.
Details

Montreal, Quebec H2k 3P4
Send Message
Hourly Rate: $180 Canadian Dollars
Gender: Female
About Me
You feel stuck and unfulfilled. You have no idea what you are doing and why. You don't know what you want out of a job. You don't know what's next for you. You don't know what you are good at. You don't grow anymore.
As a Career & Leadership Coach, I work with clients across industries and continents to find the career they were meant for and ways to excel within it. I believe that who we are should define what we do, and that what we do defines who we are, which is why I specialize in coaching that focuses on professional life including: managing career transition, finding and changing career, improving leadership skills, overcoming professional challenges, integrating into a new team or role, creating work-life balance but mainly finding self-fulfillment.
I use the Co-Active Coaching Model to serve as a catalyst for emerging leaders and mid-career professionals to take control of their outlook on work and life. I believe in helping people grow, transform and achieve beyond their ambitions.
My coaching practice is integrative. I draw from my multidisciplinary background that includes experience in luxury hospitality and marketing as well an MBA; a Master's in Career Consulting; and certifications in life coaching (ACC designation with the ICF and CPCC –with the Coaches Training Institute) and psychometric testing (Strong Interest Inventory) to provide a holistic approach to career development.
I am fully fluent in English and French and offer my services in both languages.
I built my career in the luxury hospitality industry, working for companies of different sizes and cultures across the Middle East, Europe and North America. Working and living in so many countries has exposed me to human nature in all its differences and similarities. I have held many leadership positions for leading brands from operations to marketing and communications and bring my understanding of what it means to change careers and adapt to challenges to my coaching practice.
Reviews
12 reviews (5.0)
I contacted Benedicte for assistance and guidance on how to structure my career for the next five to ten years. I was at a stage in my career where I did not know how to move forward or how to develop myself further. We started off with small goals and objectives and we linked some timelines to that. Throughout the three-month process, Benedicte kept me on my toes with various tasks and exercises. These tasks helped me to think for myself rather than looking at her for answers. She provided great guidance by asking the right questions at the right time. She always made me think in order to come up with the solutions and answers myself. Now after three months of coaching, I know much more about myself and my own passions and interests than I have ever known before. I still do not have all the answers to all my questions but I now have all the right tools to accomplish great success in my career going forward. Benedicte helped me to put things in perspective and made me realize what strong aspects I have in my personality that can carry me to the next level. She provided me with these great building blocks that I can use to take the next step. I will continue to work with Benedict on a longer-term basis because I feel that career coaching is like training for a marathon, you have to keep training in order to stay fit!

Mauritz Lundt, Senior Process Engineer, Sepro Mineral Systems, Vancouver
"Working with Benedicte was a pleasure. When I started I felt drained, unmotivated, and lost. I had no clue where to go with my career. Benedicte helped me to open my eyes to realize my real strengths, weaknesses, and the environment in which I would reach my full potential. She also helped me uncover my core values and realize that every decision I make needs to relate back to my core values. The changes did not happen over night but slowly the situations in my life started to change and I am now back to loving life, feeling full of energy, and excited for what awaits in the future. I would highly recommend working with Benedicte."

Jesse Pauls, Project Manager, Construction Industry, Vancouver
Life offers so many opportunities and it can be so difficult to sort out what we really want in our life. Benedicte came to my life at a moment when I needed some help to clarify my thoughts and goals in life. First, I really like how professional and organized she is, and right at the beginning she was very friendly and made me feel comfortable. She listened carefully any of my fears and concerns (there were many!). She helped me to explore deeply what I really want in my life and guided me slowly but surely toward the discovery of my most important values (the ones that are non negotiables to me and that should be present in my lifestyle at any time). Through various exercises, she guided me toward a better knowledge and acceptance of myself, finding out what are my needs at work, my strengths and weaknesses, and using those to set up my next goals in my professional life. I really enjoyed the conversations we had: Benedicte brought me through deep reflections, she helped me to find the answers to my main questions and gave me important inputs when needed. Most of all, she constantly reminded me that: everything is possible in life! Since the work I have done with her, I went through important changes in my life (I changed my job as well as my location) and, changes are still happening. Thank you Benedicte!

Stéphanie Beauseigle, Research Assistant, Biopterre, Research Center in Bioproducts, Québec, Canada
When I was first referred to Bénédicte, I was unaware of the life changing journey that I was about to undergo. I came to her because my life felt stagnant and I lacked the passion that I once held for my profession. Through her versatile and intuitive style of coaching she has helped me to identify both professional and personal values. She has helped me to develop strategies for achieving goals and for honoring my core values. Bénédicte's encouragement and coaching has since helped me to achieve a new career at which I feel fulfilled and driven. Without her influence I would likely not be where I am today. I strongly believe that there is something for everyone in coaching and would highly recommend Bénédicte to anyone looking to make positive changes in their life.

Ashley, Transportation Designer, Toronto, Canada
"After graduating from my MBA, I have spent three years jumping from jobs to jobs. I decided to consult Bénédicte in order to do a skills assessment. I highly recommend Bénédicte for her professionnalism, her empathy, her passion and her involvment in helping me. She helped me to define my project, she helped me to feel more confident about the strengths I was not aware of, so she was not only a career consultant, she has been a great coach and even more she became the friend you expect to have: the one who finally reveals yourself by being honest and supportive! A great thanks for your work Bénédicte because I have FINALLY found my path."

Olivia, Assistant F&B – Trainer, Lausanne, Switzerland
When I first began my coaching relationship with Benedicte I hoped to gain some direction and momentum in my career. At the time I didn't realize that I had a very low opinion of myself and this was impacting many goals in my life. Benedicte provided me with weekly challenges to practice and apply in my day-to-day. From there I was able to address and focus on specific challenges that were holding me back. As a result, my self-esteem improved and I have a new authentic understanding of what my values and goals are. I now feel clear and confident in not only my career path but in all aspects of my life, I was amazed by the journey it took to get there.

Sasha Cameron, Art Director, Eminence Organic Skin Care, Vancouver, Canada
I reached out to Bénédicte for support when I found myself in a very unsure and confusing place with respect to my career. Having seen another coach in the past without great success, I approached my relationship with Bénédicte with cautious skepticism at first – only to be proven wrong! With her arsenal of tools, her innate ability to understand her clients and their values and her honesty, Bénédicte has been the perfect guide to help me through my journey of transition. She set up effective homework assignments, and structured our sessions to ensure that I was getting the best value out of her time, her skills and most importantly, myself. Although this may sound cliché, Bénédicte really helped me to think "outside the box".

Karan, Vancouver, Canada
"Having Benedicte as my Career Coach was one of the best decisions I have made. Benedicte is personable, insightful, caring, calculated, and results oriented. The tools she provided me with are invaluable and something I will use in both my career and personal life. I would not hesitate to recommend Benedicte to anyone looking for a life or career coach!"

Elyse Dodge, Brand Experience Designer, BRANDLIVE, Vancouver, Canada
"I was very lucky to be able to realise a "bilan de compétence" with Bénédicte in 2014 (about 6 months). She is someone very knowledgeable, skilled and passionate. She was really concerned by my career, my needs and my wishes. She always adapted herself to my feelings throughout our collaboration. She was comforting, focused on my objectives without any pressure but with a lot of understanding and intelligence. Bénédicte helped me a lot, I feel much better today, I am able to look at the future with a lot of serenity, I now have the tools to take good decisions and my thinkings are clear. For all those things, I would highly recommend Bénédicte."

Olivier Puvis, Stewarding Director, Four Seasons Hotel George V, Paris, France
"Bénédicte Flouriot helped me realize my potential, build creative confidence and transform my personal and professional life. She is an exceptional coach – passionate, supportive, and encouraging. Bénédicte is doing exactly what she should be doing in life, and I would encourage anyone and everyone to work with her to bring that same truth to your life. Everyday I am grateful to have worked with her".

Carling Borne, Vancouver, Canada
"Bénédicte is one of the few people I've had the chance and privilege to work with who has changed my life drastically. She is such a fantastic life coach and a wonderful person, I couldn't recommend her enough to anyone who would like to grow career wise. She is a very passionate person and her dedication to her work transcends in every aspect it. She listens, analyzes, helps, challenges, pushes, encourages, believes and accompanies her clients on this very difficult yet blossoming path of self-discovery and growth. Everything that came out of this coaching relationship was positive. I will for sure use her help again in a near future but until then, I can only be extremely grateful for everything she has done."

Annie Chbat, Vancouver, Canada
"I spent 3 months following long-distance (skype) career "coaching" by Benedicte, and I am glad I did it. Even with the distance, Benedicte managed to make me feel at ease, and she was always available for the sessions (and between sessions). The process was well structured, and she was fully transparent with what had to be done, and where we wanted to go. I never felt pressured, or obliged to follow anything, but I fully trusted her expertise. In fact, she gave me the necessary tools to think by myself. Actually, she not only gave me those tools, but she helped me to use them in the future, by my own. Even if I have more research to do on my own, I see much clearer now and I know what fits me best. I would definitely recommend Benedicte to anyone looking for support and guidance in their professional life. Thank you."

Alexia Waldvogel, Kindergarten Teacher, Man Sang International Kindergarten, Hong-Kong
The Smart Way To Find A Coach

1 Describe Your Goals

2 Get Matched

3 Free Consultations
Find My Ideal Coach Now