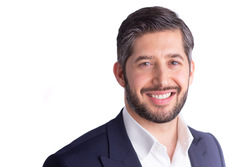 Benjamin Field

Pasadena, California
Career Coach, Spirituality Coach, Performance Coach
Certified Professional Coach (CPC), Energy Leadership Index Master Practitioner (ELI-MP)
Are you a professional over 35 feeling empty in your career? Whether you're ready to find deeper meaning and spiritual fulfillment in work and life, or feel less stuck, I'm here to help.
About Me
Are you a high achieving professional over 35 whose career emptiness is at a fever pitch in this Coronavirus Economy? Whether you want to find deeper meaning and spiritual fulfillment in your work and life, or simply feel less stuck, with my "Soulful Professional" program you won't have to go it alone anymore.
As a soul-centered career change and life transitions coach, I help people to live more engaged, passionate and purposeful existences. I went through a career reinvention of my own—from law firm marketer to soul-centered career change and life transitions coach—so I know firsthand how daunting it can be to effect a big life change. How empty and devoid of soul it can feel to work in a job you feel is misaligned with your life's purpose and passion. I also know the transformative power of discovering the "antique soul" of your profession.
While much of my work focuses on career changes, I also coach people through other big life events, such as:
> job loss and furlough
> childrearing and homeschooling
> isolation and pandemic reentry
> returning to school in later life
> relocation
> infidelity, separation and divorce
> bereavement
> spiritual crisis / awakening
I partner with my clients in a Core Energy Coaching™ relationship, helping tap their inner resources during times of crisis in order to emerge with a clear sense of individuality, purpose and direction.
Among others, my clients are motivated to:
i) Get promoted / earn more money
ii) Have more work-life balance / integration
iii) Decide on career options
iv) Transition to their next role / reinvent their career
v) Feel more passionate about what they do
vi) Navigate a major life transition
vii) Navigate a spiritual crisis / find meaning in their life
Now more than ever, as we all come to terms with the Coronavirus Economy, I feel called to help people re-soul their work and life. If this sounds like you, I'd love to connect to hear more about your career and life journey.
Reviews
I consider myself a planner; someone who relies more on logic and on the left side of the brain. As such, I find it challenging to tap into my creative side and use my intuition. Ben has the ability to ask the right questions to trigger creative thinking. He's been able to give me the space and the guidance I needed to do respectfully investigate what I'm feeling. With him, I was able to fully explore my fears and develop tools to help me understand, acknowledge and get through emotional blocks.

Jet Fandialan, Senior IT Professional, NY