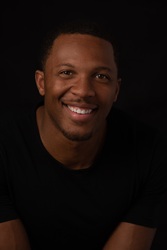 Bennie Fowler

Denver, Colorado
Performance Coach, Leadership Coach, Entrepreneurship Coach
NFL athlete and Super Bowl champion
I work with business leaders and entrepreneurs on maximizing their performance personally and professionally by helping them gain clarity on who they are and want to be and where they want to go.
About Me
Bennie Warren Fowler, III, the founder and president of Beanz, LLC, is a seven -year veteran of the National Football League. He began his career as an undrafted free agent signed by the Denver Broncos in 2014. Bennie was a member of the 2016 Denver Bronco Super Bowl 50 Championship Team and may be best remembered for having hauled in the final pass of soon to be Hall of Famer Peyton Manning. Currently, Bennie is a member of the New Orleans Saints.

Bennie earned a Bachelor of Science in Economics from Michigan State University in 2014. At Michigan State, he was a member of the 2014 100th Rose Bowl Championship Team, ending a twenty-six year Big Ten and Rose Bowl appearance drought for the Spartans. As such, Bennie has the distinction of having played in and won both the 100th Rose Bowl and 50th Super Bowl.

Bennie attended high school at the acclaimed Detroit Country Day School where he earned additional athletic notoriety as a member of the 2007 Class B Basketball State Championship Team and as a member of that years State Champions in Track in Field. Bennie holds an individual Michigan State Championship for long jump in 2008.

In 2020, Bennie became a best-selling author on Amazon with the publication and release of his first book, Silver Spoon, The Imperfect Guide to Success (Lioncrest Publishing). Silver Spoon represents Bennie's continuing journey to fulfilling his purpose and service. He discovered after being cut by the Chicago Bears that balance is key. He instructs us that "Winning is a progression. Losing is a lesson." And that it is important for your mind to be where your feet are; to be present.

Bennie's interest in brain development stems in large part from his purposed health maintenance regiment to prolong his professional football career. Bennie is a trained Co active coach and also a member of performance coach university.
Reviews
Bennie doesn't have any reviews yet.