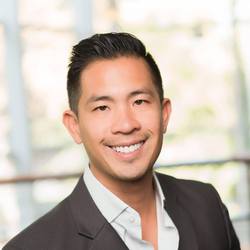 Bernard Ablola Irvine, California
Entrepreneurship Coach, Executive Coach, Career Coach
BS, MBA, NLP Certified
I coach C-Level executives how to leverage digital marketing and social media to increase sales and leads online.
About Me
Bernard Ablola is the founder of Think Strategy, a marketing and communications firm, located in Irvine, CA. Think Strategy focuses on B2B sales development for enterprise level clients. He is a frequent speaker on the topic of digital marketing.
Prior to his role at Think Strategy, Bernard managed over $25MM in search and display advertising for Microsoft's premier clients.
He is an active board member for Holistic Life Foundation, Inc., a Baltimore based nonprofit, that teaches over 7,500+ children nationwide, the practice of mindfulness and yoga.
He received his BA from the University of Baltimore and his MBA from Seattle University. On the weekends, you can find him hiking or skateboarding through SoCal, walking his Pomsky (Google it) or finding THE spiciest Asian food in the city. He is an avid traveler, visiting art galleries around the world, 8 countries in the last 12 months. Some of his favorite places include the Philippines, Hungary and Vienna. When in Asia, he highly recommends NOT eating the ice.
About Think Strategy
Think Strategy helps SaaS and B2B companies generate predictable revenue and sales online.
Speaking Topics:
"How to Generate B2B Leads and Close Quickly Through Cold Outreach and Sales Seduction"
Reviews
Bernard has 11 reviews.
Bernard came thoroughly prepared for our very first meeting. He had done an excellent job of analyzing our online presence, the challenges and opportunities. He asked the right questions and was able to get at the root of the issue within the very first meeting. It did not take him long to recommend a preliminary strategy and approach, which eventually turned out to be the correct one moving forward. Soon he was able to identify the key targets and develop a plan that was on point , affordable and quantifiable. As compared to his competition, he was able to deliver tangible results. Most importantly he was delightful to work with and was always available to everyone in the organization and his response time was commendable. I would recommend working with Bernard in a heartbeat.

Kumar Shahani, Chief Strategist
I had the honor and privilege to work alongside Bernard at Think Strategy. I watched him repeatably produce results for the companies and the clients that we served. He was relentless. And his dedication showed through his creative marketing campaigns that increased leads and sales for the customers.

Bernard personally provided me with a strong partnership, a positive team environment and an amazing example of providing service with the goal of producing undeniable results.

He understands that continuous improvements create successful business outcomes. Whether you are a silicon valley start-up or an established enterprise, you will benefit from his recommendations and advice. You'd wish that you would have worked with him sooner. Working with Bernard will change the way you think about marketing and acquiring new customers.

Ryan Chin, Senior Associate at Revel Consulting
When it comes to Email marketing, Growth, and Sales leadgen Bernard is the guy for it. Was able to develop a full roadmap, tool stack and strategy after working with him through my growth needs. Highly recommend & look forward to working on other future projects!

Justin Wu - Blockchain Growth, Head of Marketing - Coin Circle
Bernard and Think Strategy are model marketers! Their work is consistently professional, thorough and high quality. They are my go-to resource for clients when I do not have the resources to provide services myself. Bernard and his team are experienced, creative and effective. I highly recommend them whenever I have the opportunity!

Danny Dover, Author, Speaker
Bernard has helped me launched my eCommerce business by providing consultation on developing a business strategy, generating leads for my website and optimizing my Adwords campaigns. His work helped me achieve immediate results in my business. He is also a HubSpot expert, and he has helped multiple clients better use HubSpot to attract qualified leads and generate sales. I highly recommend Bernard if you're looking to take your business to a whole new level.

Kris de Leon, eCommerce Business Owner
What happens when hyper-focused millennials on mission to crush digital join forces with a corporate consultant and sales guru who pushes himself as hard as he does his A-list clients? ThinkStrategy. There are very few people I would personally and professionally recommend talking big-picture money making ideas with, and even less who I trust to turn those ideas into actionable solutions. Companies don't consult with Bernard because they can afford him—they consult with Bernard because they wish they could afford him [full-time]! The crazy part? He'll actually talk with you for free. His advice is down to earth, sincere, and sharp. It's not hype, and it's not solicited. I've written one recommendation on LinkedIn, and you're reading it. Check him out.

James Castro, Founder, Multiverse Media Group, Inc.
For approximately two years, my organization has been working with Bernard at Think Strategy, and I highly recommend their work! Think Strategy currently performs turnkey search engine marketing (SEM) for us with several different ad campaigns. They also give us regular search engine optimization (SEO) audits and ongoing strategic recommendations. Through their work we have vastly improved our search visibility, on/off-page SEO, domain authority, and numerous other ranking factors. They provide consistent reporting on all campaign metrics in a clear, accessible style.

Drew Mebane, Digital Marketing Director
Excellent, very knowledgeable and a can do attitude focused on results. We actively recommend ThinkStrategy to our Clients and Partners.

Rick Pizzoli, CEO and Founder at Sales Force Europe, Mentor, Investor
As a consultant for strategic business and marketing planning, I have engaged Bernard and his team for a number of my clients. Bernard brings strategic insights, an ability to connect technology to business and marketing goals and an understanding of new and existing digital platforms for development of each project. Unlike many technology partners I have worked with, Bernard can explain sophisticated options to the C-suite as well as mid tier managers who are not digital experts in order to obtain important feedback and buy-in. He thinks beyond the assignment to consider implications of other (often existing) digital and non-digital "touchpoints" that might influence success. I find his digital audits (which assess status and opportunity across the entire digital ecosystem) especially unique and valuable. Bernard also demonstrates a passion as well as personal care for everything he does.

Stacey Paynter, C-Level & Board Advisor
Bernard and the team at Think Strategy is equal parts inspiration, information and implementation. Bernard is one of the best I know at what he does -- his recommendations will attract more leads, customers, and clients to your business.

John Kalberer, Front End Engineer, Facebook
I am not easily impressed. Bernard has never failed to impress me. Who do I recommend Bernard to? Well, anyone looking to increase conversions, drive traffic, increase the quality of leads to their site, or just sleep more easily.

I have been fortune enough to work closely with Bernard and have had him run strategic online marketing initiatives on many projects. He is insightful, positive, straightforward, patient and kind. That is all interesting, but that is just the icing and not the cake. The REAL reason I love Bernard is that he gets dramatic and measurable results. Implementing painless marketing automation, identifying the right traffic and targets and getting them to actually care about what you have to offer, making your site actually valuable, that is why I recommend Bernard. I am deluded enough to thing that I am a genius that can do anything. The second I started working with Bernard I realized that I knew only a fraction of what I thought I knew and I was working too hard to get only mediocre results. I have better things to do with my time than be mediocre. Bernard is great, and that lets me be great at what I do best and get back to business. I am confident that he can do the same for your business and online marketing efforts.

Myron McMillin, Director of Software Development, IQVIA