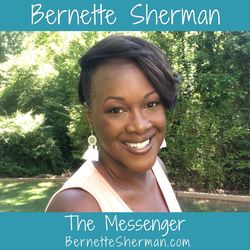 BERNETTE SHERMAN

Mableton, Georgia
Life Coach, Spirituality Coach, Performance Coach
InsideOut Coaching, Certified Digital Marketing Professional, AMA Professional Certified Marketer PCM in Digital Marketing, Ordained Minister
SPIRITUAL COACH - You're ready to walk into your life's purpose, remove spiritual blocks and barriers and are willing to explore the nontraditional path to living the life meant for you.
Details

Mableton, Georgia 30126-2063
404-939-5885
Send Message
Visit Website
Hourly Rate: $120 to $200 US Dollars
Gender: Female
About Me
You're a creative person, professional coach, speaker or an entrepreneur with a million ideas and a wealth of knowledge but you aren't sure where to focus, how, or if what you're focusing on is even the right thing. You're doing everything and so nothing is getting done like you want it to. And guess what? All that creativity, passion, and entrepreneurial spirit is getting crushed by the lack of results. I get it!
I help you focus and get the clarity to pair passion, purpose, and prosperity so you can have the dance-worthy feeling of success. You'll understand how your gifts can be used here and get clarity on why you're here (yeah I can tap into the Akashic records and your soul purpose) and what to do about it.
When you work with me you get clarity, insight, and clear guidance and a path forward because I want to see you happy dance on your way to creating that life you love.
As The Messenger, I'm a ten-time author, gifted and natural born clairvoyant, clairsentient, and clairaudient intuitive, medium, and channel. I earned my certification as a professional coach through Coaches Institute International (now Fowler International).
Reviews
3 reviews (5.0)
My experience with Mrs. Bernette Sherman has always been excellent. She's always nice, and has been willing to help anyone that needs intuitive guidance. She has compassion for others, and listens well to whats being communicated so the messages get delivered accurately. Im a big of the daughter, and mother combination of the youtube "Spirit Speaks" which has really accurate information. Anyone that needs some informative incite about the other side please check it. Thank you Bernette Sherman and to you and everyone thats blessed to read this message

Robert Bush
This game was astonishing. It was accurate in the predictions which I certainly didn't expect, however, it was also very entertaining. I highly recommend it.

Vikki Taylor
Let me tell you... Bernette was SPOT ON. Her words/wisdom still resonate with me today. It was like she knew my situation better than I did; she provided so much clarity. I'm thankful for her guidance and confirmation and am that much stronger because of it.

Erica