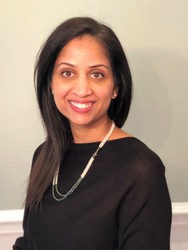 Bhavani Ravi

Hinsdale, Illinois
Money and Finance Coach, Life Coach, Career Coach
BA, Accounting, University of Wisconsin-Madison, ACC, ECPC, CISA
I coach adults and adolescents to set financial goals and facilitate achieving those goals through financial awareness and better money management.
About Me
Using my background in finance and accounting, I developed a passion for working with individuals to live their most fulfilling life. Finances can be a great source of stress and through my coaching sessions I work with my clients to reduce and eventually eliminate that stress by making different choices in how they manage their money. My clients leave feeling richer than ever before.
After graduating from the University of Wisconsin-Madison with a degree in Accounting, I started my career as an employee with a Big 4 Accounting firm. Later as a self-employed consultant, I continued to work with the same accounting firms as well as Fortune 500 companies at a global level in their Audit and Assurance practices. I've also consulted for small businesses, start-ups and entrepreneurs in various capacities to help them set goals and make fiscally responsible choices for their organization. Working with staff employees up to C-Level management, I understand the importance of finding a unique solution to each situation.
Through the 165 hours of coach training that I completed and as a member of the International Coach Federation, I have the ability to guide my clients through a structured, solution focused coaching session so that each session has purpose and the desired result for the client. I offer both 1 hour and 30 minute sessions to suit the needs of each client.
I would be honored to be your coach and look forward to seeing you take the next steps on your journey to the life that you want.
Best always,
Bhavani
Reviews
3 reviews (0 verified) (5.0)
Bhavani and I were classmates for the first three modules at Erickson International: The Art and Science of Coaching. During our time together we had the opportunity to work together on several coaching sessions. I found Bhavani to be a caring, supportive listener who guided me to a positive outcome. I have no hesitation to recommend her to you.

Esther, Life Coach, Vancouver Canada
I have had the pleasure of having had many coaching sessions with Bhavani. She has helped me with many decisions and helped me to tackle many projects. She is the first life coach I have ever dealt with I am SO glad I reached out to her and SO fortunate to have her as my life coach. Bhavani goes above and beyond to assess her clients' needs snd help them to reach their goals. She is kind, knowledgeable and has a special talent for really listening to her clients to help them determine the path that they should take. I look forward to my sessions with her. I have a real good feeling after a session and always feel motivated and inspired because of her wise, insightful words. Bhavani and her life coaching will forever be an integral part of the healthy, motivated and mindful life I strive to lead. Do yourself a favor and reach out to her. You will be glad you did.

Liz, Legal Professional, Chicago Illinois
Bhavani is reliable, friendly, professional and a great listener. She helped me to create a plan that moved me into action . I would highly recommend Bhavani to anyone.

Justina, Artist, Chicago Illinois