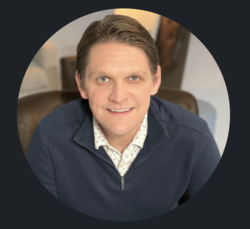 Brad Copes

Winfield, British Columbia
Business Coach, Executive Coach, Entrepreneurship Coach
Certified Executive Coach
I coach small business owners and their key people to transition from busy day-to-day managers to strategic and structured entrepreneurs and leaders.
About Me
Are you feeling frustrated that you can't see yourself "stepping away" for any amount of time without your business crumbling?
Is your lifestyle and balance not where you want it to be?
Are you not making the money you dreamed of from your business or career?
I coach busy and overwhelmed owners and executives that just haven't got their business or role to where they want it to be. You are an expert at what you do. You have built a successful company. But maybe that company is running you, rather than you running it. And you want to systemize your business and grow your people to create that thing that is in your head.
My Solution:
I customize a mixture of coaching, systems implementation consulting, and business skills training so that it is built for you, and for your company. I operate owner and employee programs.
My Background:
My passion has always been teaching and coaching. I started an exterior painting business to pay my way through university, and fell in love with entrepreneurship, training, and leading employees. At the same time, I learned the real hard day-to-day challenges of managing a business: making payroll, negotiating with clients, and motivating staff.
Next, I spent a decade on the corporate side in the franchising world where I experienced recruiting, training, and leading hundreds of franchise owners. I managed large divisions and led corporate staff. I experienced the real pressures of needing to deliver results. During this time I was a certified examiner delivering core business skills training.
I then spent 5 years designing a comprehensive business training program for owners in the home services and construction industry.
Today I focus on helping business owners add structure and bedrock systems. And I help these same owners deliver leadership development to their key people, creating sustainable companies that people love to work at.
And yes, I am educated and accredited by the International Coaching Federation
Reviews
6 reviews (5.0)
Before working with Brad I was feeling a little bit lost and unsure of how to move forward with my business. Brad helped me to refocus and find new passion and direction for the business. I would highly recommend his services to anyone looking for that little extra push.

Jessica K.
Brad has been my coach, and I couldn't speak highly enough of how he has helped me over this time. Brad's style was professional, relaxed, informal, and challenging to ensure you take the proper steps to maximize your business opportunities.

Jared McCreery
We hired Brad a few months ago after a period of rapid growth in our business. We identified some key areas with production and systemization that needed addressing to ensure we could maintain our heightened level of production. Brad has been integral in helping us develop and implement different systems to streamline our business, while still continuing a high level of growth.

Lucas Mangotich
Brad is a consummate coach. He seems to understand by asking deep, well thought out probing questions. I've worked with Brad on and off for the past 8 years and I've always found him to be a provocative, empathetic leader and coach. I can't recommend him highly enough!

Charles Knox
Brad helped with some executive coaching and did a fantastic job of helping me see challenges from a different perspective as well as helpful insight on how to better handle them. Really enjoyed our time together and would happily recommend his services!

Nigel Baxter
I came into Brad's program from a corporate environment unsure how it would fit my role. I quickly realized it's not designed for a specific role or industry but rather a desire to better align ones self wither their own goals (personal & work). I found the program to be flexible, low commitment and relative to my professional development goals. Overall, it has helped me prioritize my daily tasks in pursuit of my medium and long term goals.

Jared Koehl