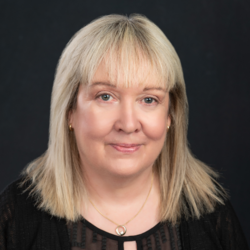 Breda Pickering

Halifax, Nova Scotia
Executive Coach, Life Coach, Retirement Coach
BSc Computer Science, Certified Life & Business Coach
I coach men and women suffering from Corporate Trauma, feeling isolated or stuck with a loss of purpose not knowing how to move forward. Together we will clear and illuminate the path to move forward.
Details

Halifax, Nova Scotia B4b 1x9
+19027196556
Send Message
Visit Website
Hourly Rate: $200 to $250 Canadian Dollars
Gender: Female
About Me
I offer a personalized blend of executive & life coaching, to assist you to reach your personal best in all areas of life. You are here because you are looking for a way to effect long lasting change to improve your current situation – whether that is in your personal or work life.
My mission is to work with you to avoid or recover from burnout or stagnation because you feel there is nowhere to go to get the focus and elevation you need to reach your goals.
For me one of the most important aspects of the coaching relationship is to allow you to build trust in a "safe environment" allowing you to be open to the journey and process of transformation based on your own goals and purpose.
One of the first steps will be to explore and establish what your goals and purpose are and to create a path of alignment to your required outcome while ensuring you are staying true to yourself.
I use a very different style of goal setting, so it become less pressured and more fun.
I have 14 years of work experience at the highest level in the Corporate world where I felt I had no one within the organization to speak to about my own personal growth and limitations without that affecting my position and being judged as having weaknesses – luckily, I found an excellent coach who I could completely open up to which allowed me to brainstorm and express myself in a safe environment.
When I left the Corporate world I decided to pursue coaching as a way to assist others like you and me, who want to be able to speak freely about their challenges and desires without being judged.
You cannot be fully productive in life if you don't know what your goals and purpose are – you won't be able to identify what changes you need to make if you don't have a clear vision of where you are headed – and it's totally OK not to know – we all need to course correct at times to see if our current goals and purpose are still serving us.
Reach out to me for a confidential session to see if we have a fit.
Reviews
6 reviews (4.83)
I was lucky to be assigned to Breda as my executive coach for our worldwide FMCG a PLC organisation. What makes Breda an outstanding coach is her ability to get you to really think about your goals, identify what you need to change to achieve those goals and help execute on the changes. Clear direction based on achievable goals with massive results.

Jennifer - Senior Executive
I had an amazing experience working with Breda last year. I was going through a very difficult time approaching retirement. I was terrified of what may lie ahead for me without the familiarity of my successful job. I could not formulate a clear plan to ensure my life would be as exciting as it was without that job which I relied on for my identity. I had the security of knowing where I fitted in, and I had the respect of my peers which was important for my self-worth.   Quite honestly, I couldnt see a way through to a fulfilling future. I found Breda to be very patient, she really listened to my perspective and therefore was able to help me have major breakthroughs that I would not have had trying to do it alone. She worked with me to formulate a plan I became passionate about by breaking everything down into logical areas and then helped me identify that I already had most of the skills I needed to implement the plan. The skills I didn't have became a new project which is part of my future learning and growth giving me direction and goals to work towards. So I did create a clear plan, my life is very exciting and I have a new identity that I feel very comfortable about. I want to express my sincere appreciation for the wonderful support provided during this chapter, which had a very happy ending. Breda was an invaluable resource to me making a lasting contribution to how I now live a very rewarding and mentally challenging life.   I will continue to work with her, and I have no hesitation recommending her to others.

Tom, Retired (Former COO IT Company)
Breda's coaching focuses on effective ways to communicate your value and contribution to leadership. Through the coaching process I realized I could no longer be apolitical. I learned to embrace the political dynamics of the company and my partners. My comfort level and communication with senior managers and employees has increased quantitatively and qualitatively. I am far more aware of creating and nurturing relationships with others in the organization to solve long and short-range challenges. If you ever wondered why you are not receiving due recognition for your work and value to the company then you need Breda's effective and insightful coaching.

Ben M, Director of Operations
I was lucky to be assigned to Breda as my executive coach for our worldwide FMCG a PLC organisation. What makes Breda an outstanding coach is her ability to get you to really think about your goals, identify what you need to change to achieve those goals and help execute on the changes. Clear direction based on achievable goals with massive results.

Jennifer
I am a HR Business Partner working with global companies throughout the world. I found being self-employed, working in a very fast-moving environment that I needed a professional sounding board to offload stress and bounce business ideas off in how to develop my business in a smarter way and to reduce my stress levels in the process. Not an easy task when trying to develop your business. This is where Breda came into my business world. I was introduced to her by another professional colleague who is a COO in an engineering company and he found her business acumen and solid advice mind blowing in how to take practical steps to achieve an overall better working system. Bredas advice is not focused on taking months out of work and bringing more financial stress down on ourselves, it about starting the work right where you are in your life. We still have to earn a living, go to work, or if necessary take a break, but how to stay employable or self-employed at the top of our game is where Bredas advice was a game changer for me and those I work with and advise. Breda worked with me on how to destress and stay energised, and how to pass on these tools to my clients and their employees and in the process helping me to stay mentally fit. Breda is unique in her understanding of Business operations in a lot of industries and her sensitive and confidential approach to getting to know you and advise you, is not a one for all approach but a focused educated and sensitive approach to get you to understand your best you.

Mary
I can highly recommend Breda as a coach. Recently she helped me in my transition from team member to team leader. I was finding it difficult to adjust to being in a management role especially with those I had previously worked alongside. Breda was able to draw on her extensive experience as a senior manager in a large corporation to help me work through the issues. Im happy to say that not alone did she help me work through the issues but she also helped me to enjoy the new role and see it for what it is, a step on the way in my career path.

Patricia