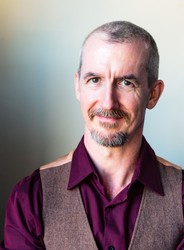 Bret Alderman

Oakland, California
Life Coach, Spirituality Coach, Health and Fitness Coach
I use my PhD in Depth Psychology to coach creatives, professionals, and entrepreneurs seeking physical, mental, and spiritual well-being. Facing stumbling blocks? We can turn them into steppingstones.
About Me
First, a few bona fides: Not only have I completed an ICF-certified coaching program, I received my PhD in Depth Psychology from the Pacifica Graduate Institute in 2013. My first book was published by Routledge in their Research in Analytical Psychology and Jungian Studies series in 2016. I have taught courses on the roots of human behavior, neuroscience, and biopsychology at UC Berkeley through the Summer Institute for the Gifted and Intercultural Communication through Alliant University.
​ But as strange as it may sound, it is probably more important to my work as a coach the fact that in my youth, I worked long, grueling hours on fishing boats in the bone-chilling cold of the Bering Sea. I know what frozen sleet in high winds feels like as it cuts into your hands and face. I also know that working a 40-hour shift in sub-freezing temperature can teach you a few things about life, limits, and adversity:
-The most difficult of life circumstances contain transformative potential, if we are willing to embrace the difficulty. Everything changes when we fully understand that there is long-term growth hidden within short-term discomfort, even if the discomfort involves real suffering.
-Our own personal limits—whether physical, psychological, intellectual or otherwise—are never quite what we imagine. They are real, but illusory: We are almost always capable of much more than we believe. And the walls of limiting belief can be taken down, brick by metaphorical brick.
-Everyone has the ability to turn adversity into advantage. Often times adversity provides the energy and impetus needed to help us take our first steps toward a new life. Adversity often announces growth to come. Disaster, or what appears like disaster on first glance, is at times the best thing that could ever happen to us. It is just hard to see it that way when you're in the thick of it. All of life's setbacks have the potential to increase our resilience, creativity, and character.
Reviews
2 reviews (5.0)
I have been blessed to have Bret as a personal Life Coach over the last several months. Not only have I enjoyed my sessions with him, but through his guidance, attentive listening, and insightful questioning, he has been able to represent my issues in a new light and give me the tools to see them through a new lens. One of the best things I learned from Bret is that with guidance I can solve my own problems, that I have all the answers. From the moment I met him I was impressed with his professional and peaceful demeanor, and this impression only increased with time. He is a person of integrity, inner peace, and strength. His coaching allowed me to grow in awareness and self-confidence. He took my issues to heart and worked with me patiently and with great charity. Bret is highly educated with an impressive curriculum and he is also a fitness marvel, striking the proper balance of the intellectual and the physical. For all the aforementioned reasons and more, I highly recommend Bret as a Life Coach to anyone who is struggling both internally and externally. Tremendous growth is possible with proper coaching and Bret can certainly provide that. Nota bene: Bret is fluent in Spanish for those who do not speak English.

Enrique J. Aguilar
I couldnt recommend Bret highly enough as a life coach. He instantly makes you feel at ease through his calm demeanor. He quickly gets on the same page as you by being a fantastic listener and asking all the appropriate questions. Bret has a great approach to the session and delves deeper than what you originally started the session with so as a result you will leave the session with great clarity on the situation. His communication is great and you will always feel supported by Bret even after the sessions as he makes the effort to keep in touch with you to see how youre doing. I love the action points that I leave with to practice & utilize after the session and they have helped me so much to continue on the good work I have done with Bret. Thanks so much Bret!

Denise Lam