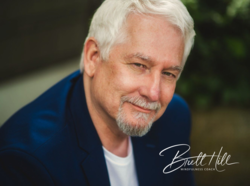 Brett Hill

Bellevue, Washington
Life Coach, Entrepreneurship Coach, Spirituality Coach
BA
I coach professionals, managers, facilitators, leaders, and other coaches. When you are tired of the pain of being stuck in too small a box and feel the calling to break free – call me.
About Me
Most people live in a small part of themselves – and suffer cause they don't fit in the box. I'm a coach specializing in deep work. My life work is to see you truly and help you inhabit and express who you really are.
I've run businesses of my own and am technologist having been a professional speaker, writer, and consultant for Microsoft and others. I've had two technical books published by Microsoft Press and was named by Microsoft as a "Most Valuable Professional" for 9 years.
I often work with professionals, entrepreneurs, coaches, and those who identify as empathic or intuitive looking discover and give voice and action to their authentic, embodied authority. This means feeling in your bones, the truth of who you are, and engaging the world from that place.
When you are standing on that ground, you are undeniable as your authenticity is clear. You are vulnerable because you're standing in your truth which no one can change so – no defense is needed. You are authentic and accessible without overextending your feelings or underrepresenting your truth. Imagine the impact on your clients, your colleagues, and managers as well as those close to you. Every aspect of your life gets better. This is the promise of learning to speak The Language of Mindfulness, which is my main website, podcast, and book in progress.
It's not the words, it's what goes on between us.
In addition to being trained in mindfulness, somatic psychology, and group dynamics, I've also been a professional public speaker, trainer, and technical evangelist for Microsoft as well as working in my own businesses helping organizations understand and adopt cloud and server technology. When Covid started, I made the decision to focus on coaching full-time rather than part-time.
You can learn more about my work from my podcast, The Language of Mindfulness
Reviews
Brett doesn't have any reviews yet.