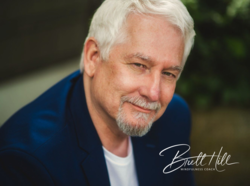 Brett Hill

Bellevue, Washington
Life Coach, Entrepreneurship Coach, Spirituality Coach
BA, International Coaching Federation ACC, Inner MBA, Certified Mindfulness, Wellness, and Somatic Coach, Certified Mindful Workplace Faciliator
I coach coaches professionals, managers, entrepreneurs, aand leaders, who want to realize their potential but lack clarity, feel stuck or held back. 100% money-back guarantee.
About Me
Do you feel like you're living "too small" in a world where you don't quite fit and feel the urge to break free?
Most people do, as the world doesn't usually support us in becoming our essential nature. Your "authentic self."
Your authentic self is who you were before the world told you who needed to be. Before the world told you "you're too much" or "that's not enough" or "don't be so sensitive."
Who would you be today, what would your world be like, what work would be engaged in - if you were living your life more from your authentic self.
I spent a long time figuring this out myself. Terribly bullied as a young man and abandoned by my father as an adolescent, I was left to figure it out on my own.
It didn't go well.
I wound up acting out in ways that were dangerous and almost get me in jail a few times. Eventually, I wound up meditating and became a meditation teacher, then a student of somatic psychotherapy, martial arts, and spiritual practices where I learned from some of the best teachers on the planet.
Now, I have the benefit of a mindful approach to living so that I can enjoy each day and each interaction with much more grace and ease than I ever thought possible.
And you can too.
I've refined the techniques and teachings I've learned over the years to make them more modern and applicable to today's modern, post-Covid world.
Many professionals, leaders, and other coaches engage me in seeking clarity about work, relationships, or even spiritual direction.
To do this, I help you mindfully experience and practice expressing who you really are - your core self. I know that at your core, you are whole and good and it's my job to help you re-discover that for yourself (no mindfulness experience required).
When you're ready to do this work, you definitely want an experienced, well-trained coach in your corner.
Call me for an introductory session to see if there's a good fit. My work is 100% money-back guaranteed.
Reviews
Brett is very insightful and makes you feel so comforted and seen. He is relatable and gives simple, real life examples and to help you understand and learn. He has helped me so much throughout the last few months and I am very grateful for his compassion and character. He is a gem.

Carli