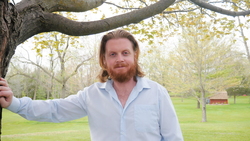 Brett Miller

Madoc, Ontario
Life Coach, Spirituality Coach
Neuro Linguistic Programming Coach, Certified in Neuro Linguistic Programming, Time Line Therapy, Hypnotherapy, The Power Process
I coach people who are looking for purpose. I help people step into their greatness, and strive to becoming all they can be in there pursuit of their life's purpose. Everyone has a seed of greatness!!
About Me
My client is someone who is looking to get out of their everyday normal, they are sick and tired of being sick and tired. They are someone that have big goals and dreams deep down within them but yet haven't shared their seed of greatness with the world. They feel stuck, stressed, overwhelmed with their current situation.
My goal for my client is to help them create a plan for their life, and how to create victory in every area of their life. We are all here to succeed but some haven't been giving that chance or guidance in how to go about doing it. I help my client to get out of their old habits that haven't been working and help them create new ones to help them get to where they want to go and have fun doing it. My list of strategies and beliefs push my client in a path of positivity and a attitude of persistence. When you decide to choose me you get the full me I don't sugar coat it.
My background consists of coaching other's about life and how to win and how to make the best out of any situation, we are all unique individuals but have you expressed your uniqueness, I don't look like your typical coach on paper I have long hair and a beard, it has giving me great satisfaction to be able to do my own thing and not fit in with the everyday norm. I have been pre judged by my appearance, but when I meet people and they realize who I actually am after meeting me they are surprised in what I am all about. I have been on tv and in movies when I was younger, I started getting judged and critiqued at a very young age, I know what a thick skin and loving people for who they are is all about. When someone decides to choose me as a coach they will be surprised how raw and real I am. I am someone who likes to speak boldly but when I do it always comes from a caring place. My goal for who I am coaching is always to exceed there expectations and what they thought they were getting, I always strive for greatness.
Reviews
Brett doesn't have any reviews yet.