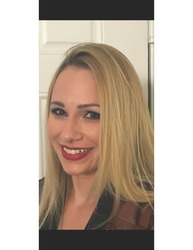 Britney De La Fuente

San Antonio, Texas
Life Coach, Career Coach, Christian Coach
MS, LVN
I believe in a person-centered perspective, where I focus on you as the client and your desires and concerns, and draw out your strengths and abilities from there.
About Me
Hello!
My name is Britney, and I am a Life Coach. I am also a nurse (LVN) and Master's Grad from the University of Texas at San Antonio, where I got my Clinical Mental Health Degree. I am simultaneously studying to take my National Counseling Exam and coaching, in order to keep my skills current and help others as much as possible. I have been through some rough experiences as a child and a young adult, but I have learned to use these things for good and to help me along life's journey, and I wish to share with others how it's done. I love coaching in all areas, but especially individuals with health/mental concerns and those looking to change or improve their career. Or both!
If all this interests you, feel free to text or email!
Reviews
2 reviews (2 verified) (4.0)
Jess
Phone therapy is ... still not as useful as I had hoped yet but this therapist is kind and supportive and I think over time we will move forward toward strengthening my resolve to achieve daily goals

Cayley B.