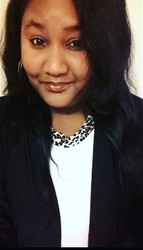 Brittany Brown

Leesville, Louisiana
Life Coach, Relationship Coach, Family Coach
Neuro-linguistic Programming, Masters in Human Service Counseling, Masters in Developmental Psychology,
I coach individuals with mental health, relationship, and personal/life problems. My services help develop personal goals, improve mental health and relationship problems, and boost self-esteem.
About Me
Hello, I am Coach Brittany, and I am looking forward to becoming your Life and Relationship Stylist. My goal is to help individuals and their loved ones overcome and improve life stressors, mental health problems, and relationship issues. I want to help individuals eliminate all negative impacts and gain the strength and happiness they deserve to live their lives.
My Motto: Happiness is an outfit that looks good on everyone!
I have a Neuro-linguistic Practitioner (NLP) and Life Coaching Certificate. I have two master's degrees in Human Service Counseling: Marriage and Family and Applied Psychology: Developmental Psychology.
I offer Mental Health and Life Coaching, Relationship Coaching, Couples Counseling, Personal Growth and Self-Esteem Coaching.
Mental Health and Life Coaching will help clients manage emotions, challenge negative thinking patterns, and develop techniques to reduce symptoms of stress, anxiety, depression, grief, etc.
Relationship Coaching will help individuals, and couples learn vital skills for relating in family, platonic, marriage, and romantic relationships. I have a Prepare and Enrich Certificate; therefore, I can offer couples counseling such as pre-marital, marriage, dating, and divorced counseling. Relationship Coaching will help clients develop conflict resolution and communication skills to improve unhealthy relationships and offer tools to deepen intimacy and pleasure.
Parenting coaching. Parents and children will learn to communicate and develop positive relationships and attachment styles to improve their relationships. Families will learn to establish healthy boundaries, forgiveness, and value each other's differences.
Personal Growth and Self-Esteem Boosting- Clients will learn to improve their perception of their abilities and self-worth, develop self-confidence, eliminate self-sabotaging behaviors, develop and achieve personal and career goals, and increase overall happiness, love and gratitude in life.
Reviews
Coach Brittany is an amazing listener and goal partner. She helps me identify self-limiting beliefs and boost the confidence I need to achieve my goals. As a result, I gained the skills I needed to accomplish my goals. If you want someone that will hold you accountable and coach you to become a better version of yourself, I recommend that you work with Coach Brittany!

Crystal J.