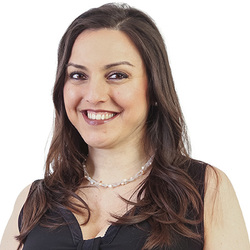 Bruna De Palo PCC

London, England
Career Coach, Leadership Coach, Life Coach
Professional Certified Coach, Co-Active® Coach, NLP Practitioner, Brain-based Coach
Through a science-based approach, as a certified coach (PCC) I help smart professionals and executives move to a career that makes them feel alive by bringing who they are into what they do.
Details

London, England SW3 3UB
00447450804523
Send Message
Visit Website
Hourly Rate: £150 to £200 British Pounds
Gender: Female
About Me
Combining 20+ years of corporate experience and constant research in neuroscience and psychology, I coach smart professionals and executives from tech, finance, banking and the luxury industry move to a career that makes them feel alive.
Based on the most up-to-date scientific findings, I utilise a brain-based coaching approach to guide my clients through the 4 stages of my career change framework, a solid step-by-step plan focused on the client's needs, learning pace and practical factors:
1 - Get clarity
2 - Manage fears
3 - Find the match
4 - Transition strategy
Specialised in applying for different roles as well as setting up a new business, I follow the clients till the last step of the journey, providing them with clarity, tools and knowledge to succeed.
Clients love this framework as it empowers them from a personal perspective that brings benefit not just in their career but in every areas of their lives.
Reviews
5 reviews (5.0)
Working with Bruna has been life changing. I am a completely different person from when I began this journey. I highly recommend her. Working with her has been transformational. I was really happy with every area of my life, but felt my career wasn't as rewarding as it could be. I knew there could be more. So I did some research and found SEVEN, who provide a brilliant coach matching service depending upon your needs. I was matched with Bruna and it was a brilliant match. Her personal energy and commitment helped me thrive in a period of significant change. She delivered an adaptable approach that was tailored specifically to my needs. She provided a positive challenge and was a joy to work with. She supported me to address what was holding me back and let it go. It turned out to be part career coaching and part life coaching, it was incredibly powerful. Coaching is the best investment you will ever make in yourself. I now have a completely different life and it's one I didn't even know I wanted.

Sara Cain
Bruna Before working with Bruna, I was in a state of total insecureness and self-doubt. I was totally frustrated with my job, and the dream job seemed incredibly far. I had moments of anxiety, struggled with depression and thought that the solution to my problems was just accept that I was "wrong" as a whole. I remember when I first listened to Bruna's presentation on the career coaching programme that she offers, I felt understood immediately, even before talking to her one on one! Her personal experience sounded very similar to mine, and the enthusiasm she was trasmitting while talking about how she found fulfilment for herself, encouraged me to give it a try at find fulfilment for myself too. This became a constant feature during the working process. The work of "knowing myself", has been a fascinating journey that I fell in love with, and that led not only to accept myself, but also valuing and appreciating myself, to the point of growimg my confidence and courage to propose myself professionally. The thing I loved the most about this project is that it is very real and practical, and that it practically provides you with a method that works. No magic tricks are involved, but the tools that work, given especially the honest and passionate preparation on Bruna's side as a succesful coach. Now I am not only more confident, but more true to myself. I am ready to take any chance that comes my way to grow, work, propose myself, accomplish tasks that used to give me anxiety and much more, even on a personal level. I now know I am not "wrong", I know that there is a direction for me. And I know that I am in the right direction. The reason I know, is that Bruna taught me to recognise my emotions and feelings when I am on the right path for myself. I recommend Bruna to any one experiencing a personal crisis, particularly on a professional level, who is in need of a guidance not in terms of being told what to do or where to go, but in providing themselves with the tools to solve their own problems for life.

Anna
Working with Bruna has been the best decision I could make before going back to work after my maternity leave. I thought working with a career coach would have helped me figure out my next career move. Little I knew that I would have learnt so much about how the mind works, what my values are and how important it is to "bring who you are into what you do". Once I started listening to my intuitions and overcome my own self-limiting beliefs, I made peace with myself, and I realized that the answers I was looking for were already right there in front of me! Thanks to Bruna, I have now a set of tools and skills I can always rely on before taking any decision, not only for my career but, in general, for my life. So empowering and liberating!

Marianna
Inspiring, transformative and most of all practical are some of the words that come to mind when I think about my sessions with Bruna. I can truly say my coaching sessions with her have helped me to find a way to implement the change I want. Ive been particularly impressed by Brunas approach to untying some of the knotty issues that have been plaguing me for years. Her skill at helping with the change process has been invaluable and I would heartily recommend her to anyone who needs a no nonsense approach to changing their life.

Kemi Soremekun
Many thanks, Bruna Bruna has been a fantastic career change coach, whose energy will naturally push you into another gear. She asks wonderfully challenging questions that will get you thinking about who you are, what your gifts are, and what your core values are. Not only did I really enjoy working with Bruna as a person, but she has helped me discover the paths I would like to lead not just in my career but in life. Thank you for all the time you have spent on me.

Alex Huntsman