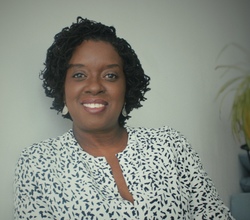 Camille deHaney-Brown

Toronto, Ontario
Leadership Coach, Team Coach, Relationship Coach
Organization, Relationship & Systems Certified Coach (ORSCC), Certified Professional Co-Active Coach (CPCC)
Do you want to move beyond being self -being aware and create real sustainable change? I coach clients that know that self-awareness is the just starting point for deep change.
About Me
Hello,
Fancy meeting you here.
I am a professional and personal development coach.
I coach leaders in developing their emotional, social, and relationship intelligence so they are more effective and impactful.
I also coach leadership teams to improve team performance, maximize collective intelligence and develop more collaboration across organizational boundaries.
In the personal sphere, I coach individuals to help them address self-defeating mindsets and behaviors that sabotage their life goals and significant relationships.
I offer a confidential space to help you connect, firstly with yourself.
Space where you are empowered to shift your thinking and behaviors to promote the change that you seek in your professional or personal life.
Together we co-create and identify gaps and begin the deep work to transform your leadership and life from the inside out.
One conversation at a time.
What makes me unique?
"Try before you buy"
Not your typical "Discovery Call". Come with a real challenge to address.
Because coaching needs to be experienced. And all good coaching begins with the chemistry between the coach and the coachee.
My expertise is in human system dynamics and my focus is not on the symptomatic quick fixes but the underlying causes.
I bring to the table the psychological mindedness, that is necessary to support you as you explore mental models and expand your repertoire.
"I educate so you can replicate" I combine coaching with adult learning principles and evidence-based practices.
With new insight and awareness, you can continue to apply and implement the tools and strategies learned.
SERVICES I PROVIDE
3, 6 & 12-month bespoke coaching packages
Systemic Coaching Intervention
Coaching Supervision
Group Facilitation
Training
Group Coaching Programs
100-day Leadership Dojo™- September 2021
Leader as Coach; How to Step Back and Lead Masterfully? - October 2021
READY TO HAVE A CONVERSATION?
Request your FREE Consultation TODAY!
Reviews
6 reviews (5.0)
Camille is a remarkable leadership, tam and organisational coach who I have had the privilege of co-facilitating with, as well as hiring as an Executive Coach for my corporate clients. Feedback on her coaching and facilitation has always been resoundingly positive, with returning clients requesting to be booked in with Camille. She has a unique ability to surface underlying dynamics that inadvertently get in the way of her coachees' ability to achieve sustainable fulfillment, balance and success, then she works with them to dismantle any limiting beliefs, develop new behaviours and create positive changes that stick.

Obi James
I have worked with a few coaches in the recent past, and hands down, Camille's approach and style was the most effective! She listened to what my goals were and then helped me to stretch beyond what I believed I could do. She has a gentle but firm approach holding me to account for my own beliefs and my actions. By nudging me towards greatness and believing in myself, I have been able to develop my business in keeping with my core values and am crystal clear on who I serve and how I will show up for my own clients. Camille has a conflict resolution style that really had me reflecting on my own contribution to situations and she highlighted the power within myself to affect change. I am so grateful to have been graced with Camille's coaching, it has propelled me to where I am today and I am deeply committed to continuing to implement the strategies she has shared with me so that my success can continue!

Rumina Morris
I have had the real pleasure of working with Camille over the past year and I am thrilled with the changes that have taken shape in my professional life. Camille honed in on the fact that I impose limits on myself and helped me challenge this self-doubt to move forward with less fear and more joy. She also helped me decide which activities best met my objectives as I tend to take on too much and lack a little focus, and this moved me closer to my career goals. Camille is a clear communicator; very encouraging while holding clients to account and that was a perfect fit for me. I am thankful for her guidance and excited to see what's next!

Nicole N.
I inherited a team that was very toxic. This energy trickled down to the entire department. As an outsider coming in I worked with Camille for quite a period of time. Her coaching and facilitation supported me and the leadership team to have some difficult conversations and make some significant decisions that changed the culture. The money and time saved in getting to the root of the issues quickly made all the difference in me taking on this role successfully.

Mr. Macinic
Camille is the first coach I had that really challenged my perspective on how I was doing as a leader. I was looking for a coach to give me some feedback on my leadership. Camille was able to experience a "day in my life" where she shadowed me. This observation brought real examples to the coaching conversations. I used our sessions to get clear on my influence and presence as a leader. I must admit there were times that I felt triggered but I am glad I stuck with it because it was exactly what I needed. After our coaching was completed, Camille facilitated an intervention with my team. She helped us create a new way of being and working with each other which we put down on paper. This new way brought more accountability into the team. Collectively we developed a greater appreciation for each contribution. This is still our working document. Our team manifesto!

R.Mooren
Camille was my coach for a year. I still book sessions with her from time to time, especially during this lockdown. She started coaching me at a time where I was leading a change initiative and facing lots of backlash from the team. Things got quite messy and my focus was being pulled in many directions. Our sessions helped me link my inner purpose to my outer work. The time spent helped me to reflect and slow down the pace. She became my confidante. I thought I had great EQ but coaching with Camille helped me see the gaps in my EQ. We worked together on my relationship management skills. The dedicated space, 2 times per month on my leadership journey helped me to understand how I lead. She pushed me and challenged my bias and I am a better leader for it. She tells it like it is. I am still a work in progress but the insight I gained has made a world of difference to the inner leader in me.

Vita