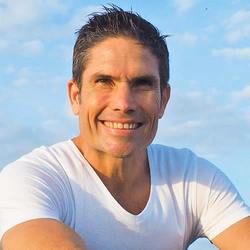 Carl Massy

Denpasar, Bali
Performance Coach, Business Coach, Life Coach
Graduate of Royal Military College Duntroon, Dip NLP, Dip Clinical Hypnotherapist, Cert IV in Personal Training
I work with amazing individuals to not only help then see a clear and purpose-driven future, but to know how great they are. I always provide specific & practical strategies to achieve their desires.
About Me
I have traveled the road less traveled, the road well traveled, and a lot of whacky paths in between.
One of those greatest path started with my first personal development course and seminar back in 1999, which caused me to delve into the exciting world of personal development, where I develop an insatiable thirst for knowledge and wisdom, along with physical mind-body practices like yoga.
As an Australian Army Major at the age of 29, I decided at one point that the box I had learned awesome skills in was just not big enough so I resigned, skipped countries, and took up a role as a Consultant to the 2002 Salt Lake Winter Olympic Games. My leap of faith lead to five amazing years of consulting to mega sporting events all across the world.
But it was in 2007, where I finally found the courage to leave my cushy Consulting work to take up my true passion of helping people find their inner happiness and vitality. It was time to set up my international Coaching practice, based out of Bali.
Fast forward a few years and I have now coached CEO's, elite athletes, world record holders, actors, UN workers, business owners, entrepreneurs and everything in between. I have also presented seminars and workshops to companies like Chevron, Aspire Zone and the SWIRE Group. I have authored 4 books (The Guidebook to Happiness, The Guidebook to Optimum Health, The Guidebook to Authentic Success & The Successful Mind).
In the end, I just love seeing people tap into (a lot) more of the potential I know they all have. With 20 years of strategic planning skills, plus skills as a NLP master practitioner, reiki master, personal fitness trainer, hypnotherapist, and Coach, I am fascinated to find the little things that people can start doing or stop doing, that provide them with the highest happiness ROI.
I was a co-owner at an amazing yoga centre in Bali called The Practice, and left after 5-years, in June 2019, to found a new business.
I am legally registered to work in Indonesia too.
Reviews
5 reviews (5.0)
I did a 1,5 year apprenticeship with Carl - means I got to know him pretty well ;) Carl is an excellent Coach and I am super grateful to have crossed paths with him - and I mean that from the bottom of my heart. He is very kind and super generous. He is a very good listener - but also gives great and very intelligent advice. Also he was always open for my suggestions and he gave me the freedom to grow into my own authenticity - rather than pushing his truth on me. I also really appreciate his mix of business strategy and spirituality and mindfulness. We truly had a great time! Thank you Carl for teaching me, coaching me and supporting me on my path!

Simone Stocker
I first met Carl on his Life Masterclass which was held in Berlin a few years ago (I found him through a referral from a friend on Australia!) This year I managed to make it to Bali to visit for a face-to-face coaching session. I have a regular coach already however I was keen to catch up with Carl as I felt that he could assist me with a pragmatic and logical plan to establish my business. We created a timeline and spoke in depth about all the things I needed to in order to know how to launch my business. He offers realistic and tangible advice that you can easily set your mind to and consequently action in your own life. I am now a regular client and will be checking in with him on a consistent basis in order to keep my mind sharp and in tune. Thanks Carl!!!

Catriona Parsons
I am working with Carl on a regular basis. He is an incredible coach and teacher. I started working with him after I have completed my Yoga Teacher Training in Bali in 2018. During this Yoga Teacher Training he led a coaching workshop and taught us several very useful techniques. In the workshop we discussed our dreams, vision and goal and he asked me a transformational question: "What is keeping you from going after your goal? What is the story you are telling yourself" It seems like a very banal question but for me it was the ultimate game changer. In every session that I have with him I am having at least one breakthrough and feel more empowered. He always provides me with tips and useful sources of information. His sessions are a perfect mix of intuition, his experiences and amazing questions to reflect on. I can highly recommend working with Carl on your personal and professional development.

Marleen
Sometimes things happen completely different than you expect.....I went into my coaching session with Carl with some idea in mind of what the result would be, and came out with something much better but totally different. He called me on my bulls*it, opened me up to possibility and shifted the way I look at certain aspects of my life. He showed me where I had been creating 'stories' and how these were limiting me, and gave me a new way of moving forward in my business and life. I've done a lot of work on myself. I'm renowned for over analysing and for diving deep into my psyche. I revel in looking into my darkness and staring it straight in the face. Yet somehow in the limited time we had together, Carl managed to shift some of the old paradigms I have carried for a long time, and give me access to an understanding of self I would not have been able to do alone. It was humbling and confronting and cathartic and I will be forever grateful. See you next time in Bali Carl. I'll be back for more. Never thought I had 'stories' but I quite patently do. Looking forward to the evolution ;-)

Cassandra Pickel
"I was feeling scattered and a bit overwhelmed before talking to Carl. But our clarity coaching session made a huge difference. It helped me narrow down to what's most important to advancing my life. Now I'm taking more courageous action every day. Thanks Carl."

Jeremy Mark Meyer